Story
You may already be familiar with the inspiring story of WWII fighter pilot Fr. George Wood, but did you also know that George, at the age of 96, is still doing amazing things? Most recently he has donated to the College every penny earned from the sale of his memoir. How amazing is that?
George, pictured above signing his book recently at our Autumn Fair, is one of the Colleges staunchest supporters, but he isnt the only Resident to help support the work of the College so that those in financial difficulty can still live and be looked after here.
To help make this possible some Residents may give an occasional donation if they can afford to do, while others may leave a gift to the College in their Will. Some may do both, to try to meet the needs of those less fortunate than themselves. They understand from their own experience the difference living at the College can make to health and quality of life and they want others to benefit.
Nonetheless, although the College community is trying to help itself and its own in this way, and it is still our proud boast that no-one has ever been turned away for lack of means, the need we are trying to address is considerable and ever-present, making assistance from outside the College gates as vital as ever to continued success.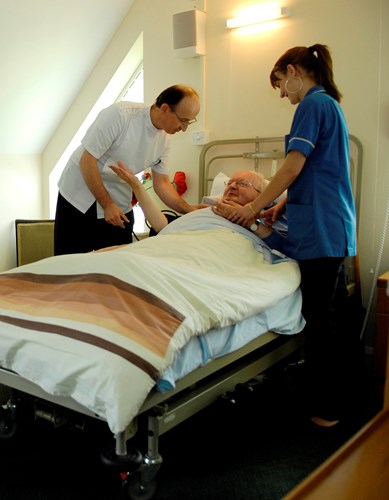 Being cared for in the Nursing Wing
You may already know that our frailest and most vulnerable Residents, including those who have to rely on social security for help with costs, receive the highest possible standard of care and that whatever their needs, we endeavour to make the College a real home-from-home for them as part and parcel of the care we provide. This is because it is so important to the overall health and well-being of these especially vulnerable Residents that they do truly feel at home at the College.
Moving home at any time is generally held to be one of lifes most stressful experiences, so can you imagine what it must be like to move out of your own home and into residential or nursing care, knowing that this will be your last move? It must be a huge step, an acceptance that you are no longer as young as you once were, that you are no longer as independent as you might like to be, that time is not infinite and that choices are limited. Most of us will have experienced the stresses and strains of at least one house move, but this takes it to another level. It must be a huge emotional upheaval, however much of a positive spin you try to put on it.
And for the frailest it is a huge emotional upheaval at a time of particular vulnerability. It is precisely because of this that the College strives to be as much as a home-from-home as possible.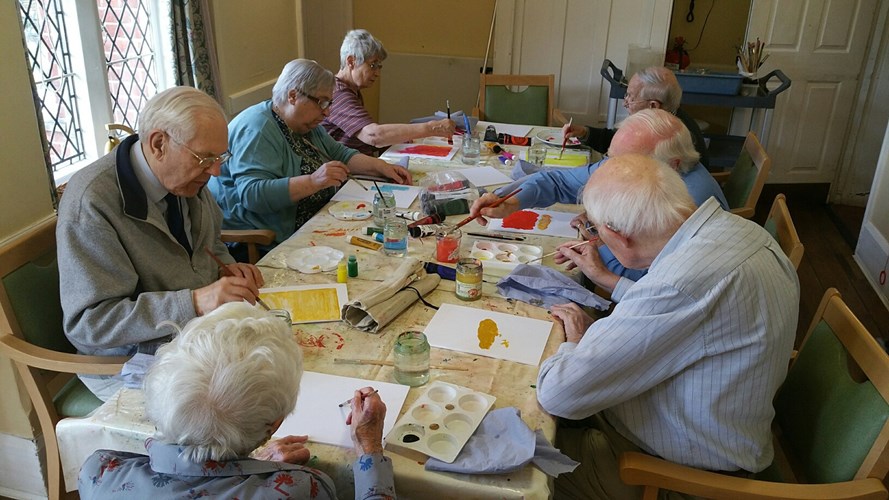 Residents' Art Group
Those whose frailty and vulnerability are accompanied by financial insecurity are a particular cause for concern as they are unable to meet the costs of care and accommodation from their own resources, while social funding falls far short of what is actually required to give these elderly people the level and quality of care that they need. Despite the efforts of some of our Residents to help deal with this, the College community cannot manage this social care gap on our own and that is why the help that you give is so critically important to the well-being of the people in our care.
A £15 donation provides breakfast for a week
A £30 donation provides breakfast and lunch for a week
A £60 donation provides 3 meals a day for a week
A £150 donation provides one day of nursing care
Any help that you give will be used to provide direct support to those who are most in need, to ensure that they receive not only appropriate, high-quality care but also to make sure that the College can continue to be their home-from-home.
You may already know that the College has almost 125 years experience of caring for old and vulnerable Anglicans and an enviable reputation for the way it looks after its Residents, so you can rest assured that your gift will be used wisely to achieve the maximum benefit for those most in need.
Please do give as generously as you can. As you know, we are not a large charity, so every penny really does count.
Thank you.