Story
Protected wildlife species such as the great crested newt, the dormouse, the water vole and the rare silver-spotted skipper butterfly are all in danger of disappearing if we do not act now. Scientists are concerned that the change in climate is happening too quickly for many species to adapt, leading to potential extinctions.
Your donation today will help create, and link-up, vital wildlife corridors in north Dorset with the rest of the county; giving many wildlife species the best possible chances of survival. We will also use any donations as match-funding for grants for this work, meaning that for every £1 you give, an additional £3 can be released.
Your valuable contribution could be used in the following ways: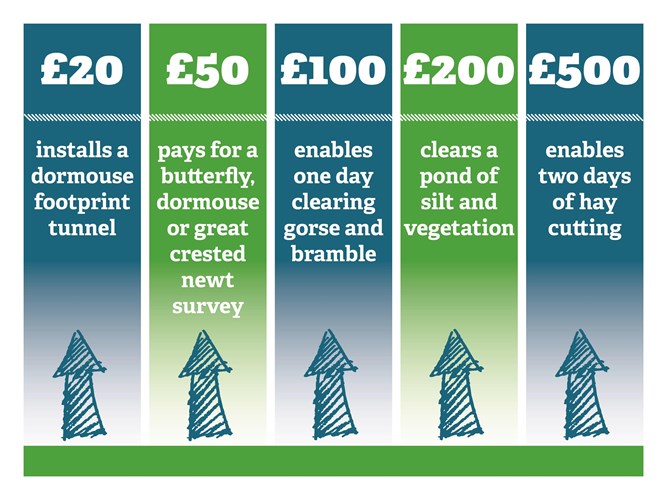 Thank you. This is how your donation will support 5 initiatives that will make a difference to wildlife in north Dorset:
1. Great crested newts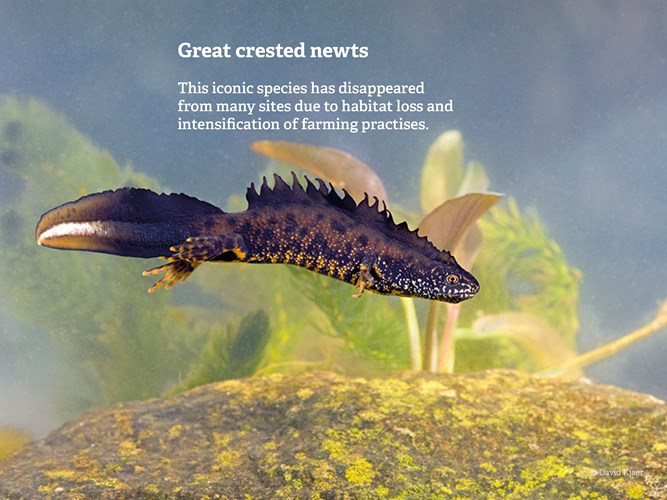 Effects of increasing temperatures have a knock-on effect on vital wildlife habitats. Rising temperatures cause vegetation to grow more rapidly, and in ponds, this has had a direct effect on our populations of great crested newt in north Dorset. A protected species of international importance, great crested newts need suitable ponds with clear water to be able to breed, surrounded by rough grassland, scrubland, hedges and woodland for refuge and foraging. Ponds, like hedgerows, are priority habitats providing essential stepping-stones for wildlife to move around the landscape.
You can help us continue our essential work restoring more ponds, clearing them of silt and overgrown vegetation. We aim to link habitats by filling hedgerow gaps and creating buffers of longer tussocky grass at the sides of fields for great crested newts to forage in. This will help establish a network of wildlife corridors for the newts and other wildlife to navigate.
2. Dormice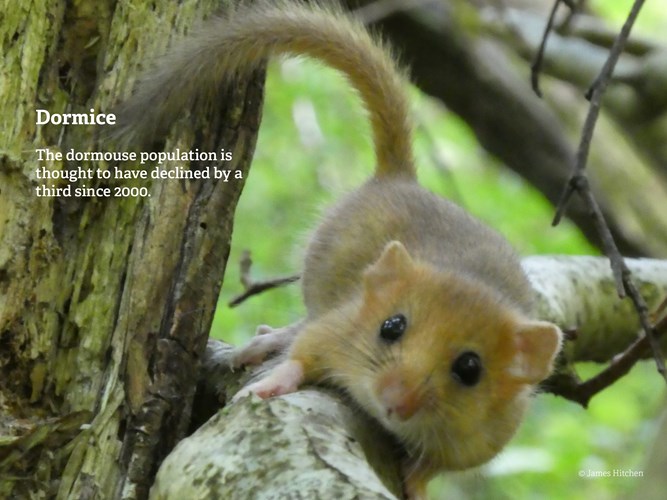 It's not just our great crested newts in the north, our dormouse population need help to be able to adapt to a changing climate. The dormouse population has declined by a third since 2000. Dormice depend on diverse woodland and well-connected hedges for nesting, hibernating and providing an ample supply of food. The loss and degradation of such habitat has had a significant impact on their decline.
Your support will help us protect this vulnerable species by funding traditional forestry methods such as coppicing at our woodland nature reserves. Our woodland sites will be a key part in Dorsets network of wildlife-friendly corridors. At Ashley Wood we also want to invest in installing footprint tunnels to help us more accurately survey and monitor populations.
3. Silver-spotted skippers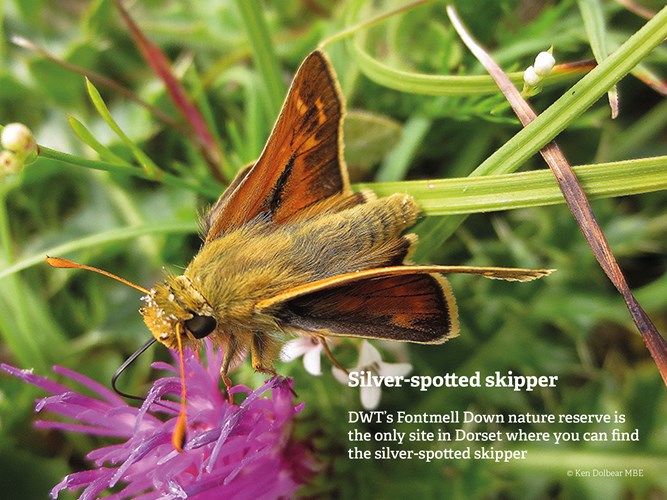 The rare silver-spotted skipper survives in the chalk downs of southern England where it can be seen darting low over short turf, stopping frequently to bask on bare ground or feed on wildflower nectar. Populations have declined such that today DWT's Fontmell Down nature reserve is the only site in Dorset where you can find the silver-spotted skipper.
To ensure that this iconic butterfly species does not disappear we need your support to carefully manage the chalk grassland and continue surveying the site. Scrub species such as gorse and bramble, which act as barriers for this species, need to be cleared and hay cut to encourage the important chalk grassland flora to grow, giving the silver-spotted skipper colonies and other calcareous-specialist wildlife the ideal conditions to spread.
4. Water voles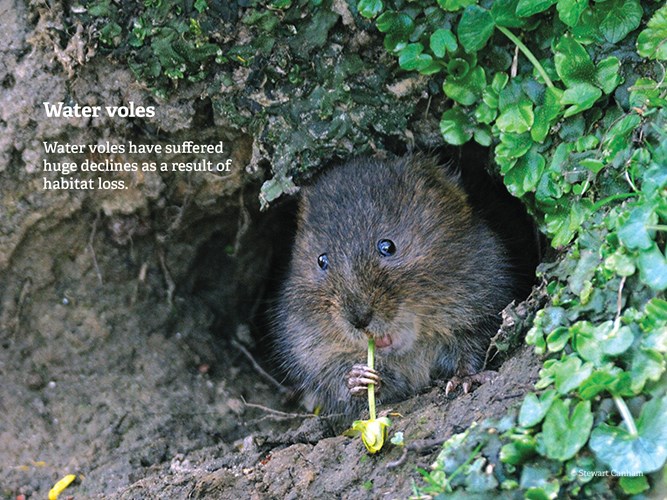 The future of water voles, a vital part of river ecosystems, is in peril. The burrowing and feeding movements of this charming mammal help to create conditions for other riverside plants to thrive. They urgently need help to survive in the UK. Water voles have suffered huge declines as a result of habitat loss, pollution of waterways, industrialisation of agriculture, housing development and predation by American mink.
Your support will ensure that Dorset Wildlife Trust can work with the Dorset Wild Rivers partnership in north Dorset, to create linking habitats including wet grassland, floodplain meadow and wet woodland to help water voles and other vital river species adapt to climate change.
5. Gillingham Royal Forest project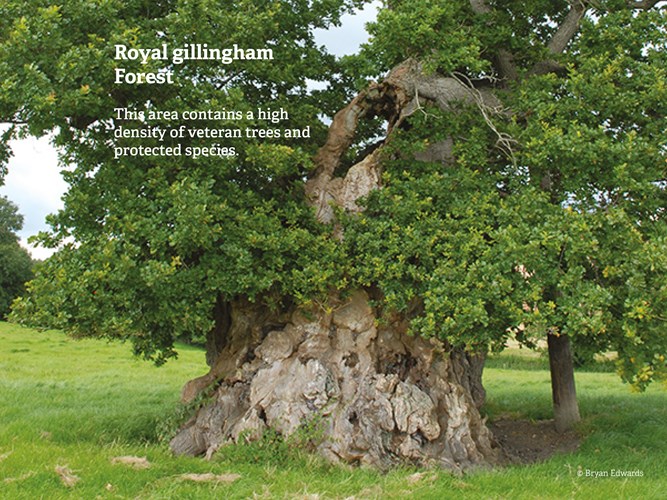 The Royal Forest was established for hunting pursuits after the Norman Conquest in 1066. This ancient landscape of over 3,000 hectares of north Dorset is rich and varied with ancient hedgerows, pasture and woods containing a high density of veteran trees, ponds and chalk stream headlands. It's also home to protected wildlife species such as water voles, great crested newts, otters and other important species including dormice and barn owls.
With your help Dorset Wildlife Trust will work with partners and engage with local communities and landowners to safeguard these significant wildlife habitats and ensure they link across the landscape, providing havens for many wildlife species for future generations.
Dorset Wildlife Trust urgently needs to raise funds so that we can carefully manage these crucial habitats. Thank you for your help.
We would like to thank: Terry Whittaker 2020 vision, Ken Dolbar MBE, B Edwards, Stewart Canham and James Hitchin for use of their photographs.