Story
Header image credit: Sarah Parker
Every year the RSPCA East Winch Wildlife Centre care for over 150 seals. From pups who have been orphaned to adult seals who have been entangled in fishing nets, there are always seals in need of our help.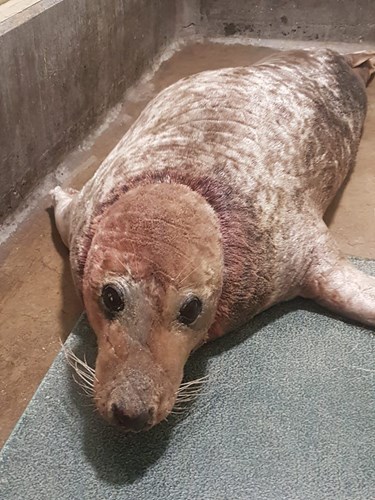 Sir David is the latest casualty. He was caught on Horsey Beach in Norfolk in a joint rescue operation between local charities Friends of Horsey Seals and Marine and Wildlife Rescue.
The large adult male grey seal was then rushed to the RSPCA's East Winch Wildlife Centre where staff and the centres vet battled to remove the yellow plastic frisbee, which was deeply embedded in his neck, causing a severe wound which was infected and covered with blood.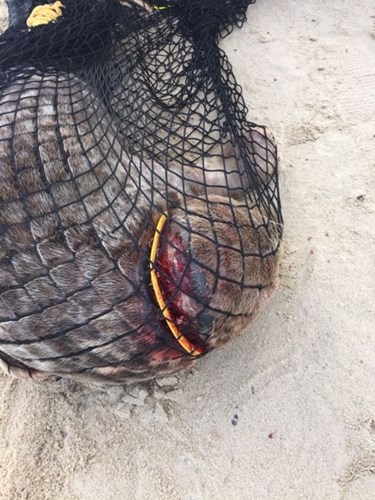 Image credit: Friends of Horsey Seals
The latest yellow frisbee seal, who weighs 125kgs, had been previously spotted on the coastline, but rescuers were only able to get close to him when he weakened. Fortunately he was spotted yesterday and the rescuers were able to sneak up behind him and get a net around him, before he raced back to the sea.
Alison Charles, RSPCA East Winch's centre manager said:
All we can do now is hope that this seal is strong enough to pull through, he is actually in a worse condition than the previous two frisbee seals, and it always felt touch and go if they would make it.
Our vet has cut the frisbee off using surgical scissors and Sir David has been given antibiotics and painkillers.
But he is in a very poor condition. We are concerned because this is a very deep wound. Even if he makes it through the next few days, we are not out of the woods, and we will be treating him for a number of months.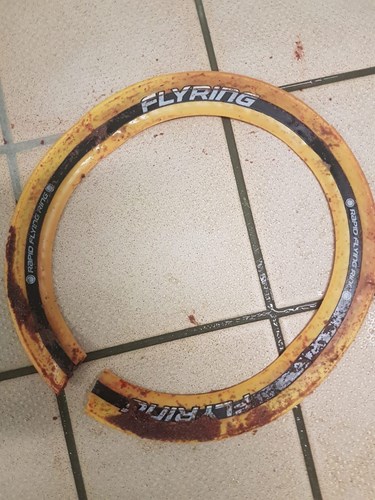 The seal is likely to be in RSPCA for at least five months. And he will require at least four 25kg bags of salts a day as part of his rehabilitation.
Sadly the incident echoes two very similar rescues of other seals who both had frisbees embedded in their neck.
One of those seals, called Pinkafo, was rescued in December and fortunately has since been released back into the wild.
Alison also commented:
I cannot express how sad it is that another seal has been found with a huge infected wound caused as a result of a toy. Its so infuriating knowing that this injury could have been prevented.
Many seals are entangled in fishing nets, caught up in litter and orphaned every year. On average they stay at the centre for 4-5 months while they receive expert care and to slowly get them ready to be released. This comes at a huge cost to the centre, from feeding all the mouths hungry for fish to paying for antibiotics and other medicines. Any help you can give will be a huge help in getting these animals back to where they belong, swimming in the sea.
£10 could help towards the daily cost of salt for seals with netting injuries.
£25 could help towards the cost of medication for two seal pups for a week.
£50 could feed a baby seal in rehabilitation for two weeks.
Donations made to this appeal will go towards Pinkafo and Sir David's care, any surplus funds raised which cannot be used for their care will be used to support the work of RSPCA East Winch Wildlife Centre.
Thank you for your support.