Story
Christmas is a time of joyful celebration when most of us will, at some point, sing or dance or share jokes or be silly with our loved ones. At this time of year, everyone deserves a chance to laugh and be merry with the people they love the most.
But for thousands of children around the world, this won't be possible.
This is because when there is war, conflict or disaster, opportunities to laugh and play become scarce. It is a frightening and lonely time.
Your support can reassure children at uncertain times.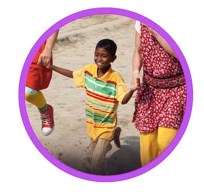 Last year, Clowns Without Borders shared joyful performances, laughing, dancing, singing, magic, play and even fire-eating with nearly 10,000 children in refugee camps in Bangladesh and Jordan as well as with children rebuilding their lives after Hurricane Idai in Mozambique. Can you spread more happiness in 2020 by making a donation?
Your gift - the Gift of Laughter - will enable us to share precious moments of respite and play for children living in extremely difficult conditions in refugee camps across Greece, Serbia and Bosnia. Without your kindness, this simply won't be possible.
Ways You Can Help
* Make a donation
* Set up your own fundraising campaign - the sillier the better.
* Instead of giving a present, donate the Gift of Laughter on behalf of a friend. Don't forget to let us know so we can send you our special banana certificate.
* Sharing is caring. We'd love you to join us in spreading the word about our 2019 Christmas appeal and the healing power of laughter.
This year, your donation will help bring happiness to children living through disaster and brighten their lives at a difficult time.
Thank you.