Story
Help the new Royal Marines Museum share the stories of its historic collections by joining with other supporters to Adopt an Object.
From 2019 to the opening of the new museum, we will offer the opportunity to put your name to some of the most interesting, informative and educational items in our collection.
Here is a silver cup, presented by Kaiser Wilhelm II for individual rifle shooting at Kiel in June 1914. It was won by Gunner Arthur Douglas Layzell, Royal Marine Artillery when he was serving on board HMS Ajax, and became known as the 'Kaiser's Cup'. Captain Layzell was born at Eastney, Portsmouth, 1895, not far from the Royal Marine Artillery barracks where his father was serving. As a youth he was a member of the Royal Marine Artillery Boys Cadet Corps and enlisted in the RMA on October 7, 1912.
After recruit training and qualifying as a Gunlayer he joined HMS Ajax where he was serving when war started. He saw action at Heligoland Bight and in the Battle of Jutland. Leaving Ajax in June 1916 he qualified as a Gunlayer 1st Class and then as Instructor of Gunnery rejoining the Grand Fleet in October 1917 in HMS Erin. He later served aboard HMS Repulse during the world tour of the Duke and Duchess of York.
In 1923 he spent a year at Whale Island where as a Sergeant he qualified for Royal Marine Gunner. A year later he was promoted to Royal Marine Gun and served two full commissions afloat, first in HMS Revenge with the Home Fleet and then in HMS Royal Oak in the Mediterranean. During the early thirties he passed the Advanced Course in Gunnery with high marks in both theoretical and practical subjects, an achievement of which he was justifiably proud having received no formal higher education since leaving school at the age of 14.
He then spent short periods aboard HMS Barham, in which his younger brother Ewart, a Bugler had previously served and HMS Royal Sovereign. In 1935, he was promoted to Commissioned RMG and in his battleships the Marines' turret and six inch battery achieved the high standard of efficiency expected of them and were a credit both to Corps and to their ship. At that time the name of Gunner Layzell was renowned both among Portsmouth Marines and his Naval colleagues. He took part in landing party exercises where his skill at small arms came to the fore and he played a significant part in Naval activities such as boat-pulling, helping Royal Oak to the distinction of "Cock of the Fleet".
In 1935-36, during the Italo-Abyssinian crisis, he served with the Royal Marine Group installing and manning the Base Defences, Alexandria for the protection of the Mediterranean Fleet. Soon after war broke out again Capt Layzell was appointed to a Coast Artillery Brigade and commanded a 2pdr Pom-pom" battery which formed part of a Royal Marines force which occupied Iceland. He rejoined the CA Brigade in February 1941 and embarked with MNBDO I for the Middle East and served in the Suez Canal area. In September 1941 he joined a composite unit formed from MNBDO I and proceeded to Gan Island to install coast defences, etc. After a short rest in Ceylon his troops installed and manned a six-inch battery on the island of Diego Garcia before he rejoined MNBDO I returning to the Middle East in May 1942 where he later became Instructor of Gunnery with the Coast Artillery Brigade.
He returned to UK and from early 1944 was employed training gun crews for landing craft in preparation for the invasion of Europe. Shortly after his fiftieth birthday he was placed on the retired list on November 13, 1945 after a career spanning 33 years and embracing very active service to two world wars. It was while in the RMA Boys Cadet Corps that he gained his initial skills as a marksman. During his first commission in Ajax while on a courtesy visit to Kiel for the opening of the Kaiser Wilhelm Canal he received from the Kaiser , a splendid cup for the best individual shot from the visiting squadron and came within a single shot of winning the Mayor of Kiel's cup in an all-comers competition.
He represented his Division and the Corps in many local rifle and revolver competitions being in the RM Eight three times at Bisley. After retirement he donned his old uniform a few times to participate at Bisley as Range Officer. He also represented the Corps in Bayonet Fighting and in the field gun competitions at Olympia. He had a great love of children and led an active and enthusiastic life combined with family affairs, remaining mentally alert to the day he died which was, appropriately for a Royal Marine, St George's Day 1971. He leaves a widow and three sons, the eldest of whom himself served in the Corps during the last war.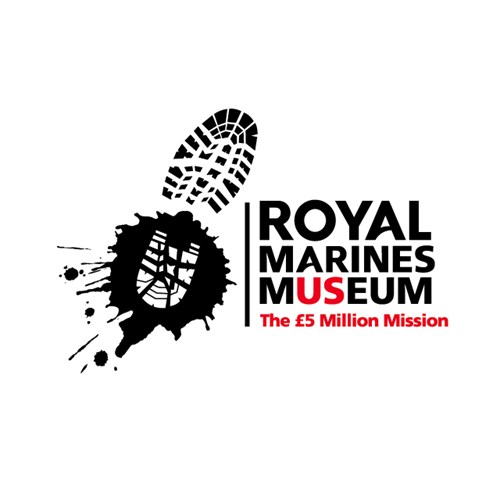 The museum's collections are the living memorial to those who have served, charting battles and operations and the stories which bring them to life. The new museum will enable us to tell those stories more effectively and create a deeper understanding of the vital contribution of the Royal Marines to our society.
There is no minimum donation but you can become a Senior Adopter of an object for £500. Senior Adopters will be invited to a special event ahead of the opening of the new museum. Recognition will be made of all donations over £120 within the new museum when it opens.
The new Royal Marines Museum, at the very heart of Portsmouth Historic Dockyard, will place the 354-year history of the Royal Marines firmly within the story of the Royal Navy. For the first time the story of the Royal Marines a national story, but also a story with impact across the globe will be told in a building appropriate to its scale.
After clicking 'Donate', please enter the amount before continuing. Once you have made payment there will be an option to tick a box I'm happy to be contacted by NMRN to hear more about the impact of my donation, its appeals, events and other ways to donate, by email and post. If you do not click to accept further contact or send us your contact details we will be unable to send you your adopter acknowledgement. Please be assured that we will not send you further marketing materials unrelated to your adoption and you can opt out at any time.
If you have not heard from us within 2 weeks of adopting an object please e-mail fundraising@nmrn.org.uk. All anonymous adopters must contact fundraising@nmrn.org.uk to receive their adoption pack as your contact details are not forwarded to us.
Donating through JustGiving is simple, fast and totally secure. Your details are safe with JustGiving - they'll never sell them on or send unwanted emails. Once you donate, they'll send your money directly to the charity. So it's the most efficient way to donate - saving time and cutting costs for the charity.