Story
Five years on the street, 10 years at Hope and now its time to pay it back
For Mat, who 10 years ago was living on the streets of Northampton with no home and (in his eyes) no future, a life with a dog, a roof over his head and the prospect of employment seemed a million miles away. Yet 2019 saw a turning point for Mat
In April this year Mat woke up and decided to change his life.
I was bored said Mat, I needed something to stop me from sitting around at home.
And after a conversation with the Hope Centre Casework team, Mat was introduced to the Hope Tools workshop.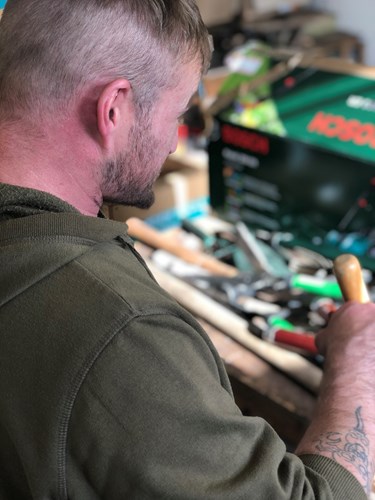 Im now in there two-and-a-half days a week. It gets me out and about and stops me just sitting around.
Mat now works in the tool workshop to renovate second hand tools for resale and is looking forward to taking on more over the coming months.
Mat talks of setting up his own tool project and starting his own Hope Tools franchise. For now Mat is content to learn the skills, help in selling the stock he makes and learn all about the Hope Enterprise business model.
To ensure more people like Mat and David can be helped in 2020, please support our appeal to make our Christmas Special" for more people like Mat