Story
In four months of active fundraising, over a hundred generous donors have taken the total to over £90,000- just over 75% of the target. To add to the many founding personal donations, we recently received a grant from the Scarfe Charitable Trust , to add to one from The John Pilling Trust, and great news this week that Allchurches Trust are also supporting us. It is a real endorsement of the project, in a very competitive funding environment. Many 'in kind' donations have also been given magnanimously, and received with great gratitude: time, specialist expertise, labour and currently, accommodation for the organ builders. We are so very grateful to all individual donors for lending their support, enthusiasm and financial contributions. We have much left to do, but without you, this significant and ambitious project would not be happening. Thank you so much!
This has been quite a week! On Sunday 17th March, the back of the church was full of crates, pipes and casings. Two days later, an organ like structure was emerging from the puzzle. An engineering wonder in waiting. You can see what happened over the first five days of the build here:
bit.ly/2TrjZr9
The music is by kind permission of Jonathan Scott - his own arrangement of Rimsky-Korsakov's Flight of The Bumble Bee, performed on the organ of Symphony Hall, Birmingham. Film & editing courtesy of Graeme Kay, Project Manager.
The newly restored organ, 'Anna Magdalena' is now in residence and in construction. It is tradition that an organ is given a woman's name and the Orford organ, has been named for Bach's second wife, herself a soprano and professional musician. The Peter Collins organ being installed in Orford, is one of only two concert organs in parish churches in Suffolk. It is hoped that this significant 21st century initiative will become a valuable and enriching resource to the life of the parish for choral and secular musicians, professional and amateur, and will contribute immediately to this cherished sacred space.
A great deal of interest has already been generated in Anna Magdalena's arrival and several celebratory events have been donated to the church, in thanksgiving. A sponsored science and engineering Woofyt workshop for primary school children will take place on 3rd May, and adults too, are invited to enjoy some of the fun at 6pm. www.woofyt.org An inaugural organ festival will establish Anna Magdalena in her new home over a three day weekend from 10-12th May and a number of professional and amateur musicians have promised benefit concerts for the church later in the year.
Before all of that, the dedication ceremony, will take place on
Easter Sunday at 11 a.m.
Eucharist and Dedication of the new organ
President and Preacher
The Right Rev'd Dr Mike Harrison, Bishop of Dunwich.
In the intervening four weeks, the organ builders, Ian, Dave and Tom are will be in the church, weekdays from 9 am till 6 pm, continuing the build. At the weekends, the church is closed on Saturdays and open for Sunday services, at 8 am, and 10.30 or 11 a.m. and for choir practice at 6 pm.
Please feel free to share this update with friends who might be interested or, who would consider joining you in contributing to this historic moment in the history of St Bartholomew's. This can be done through the project web site https://orfordorganproject.com/
Updates on progress are also available on Facebook - Orford Organ Project and on Instagram - Orfordsings.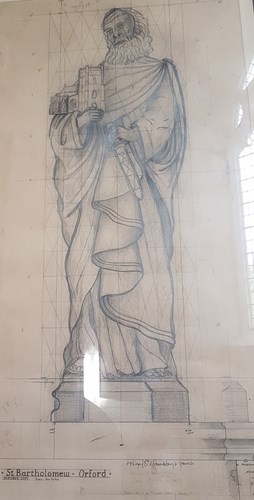 St Bartholomew's Church has stood at the heart of the Orford community since the stones of the now ruined chancel were first laid in the 12th century. Its role as a place for weekly worship, baptisms, weddings and funerals, as well as concerts, drama and dance performances, lectures, church bazaars and country markets has created an invaluable hub of human interconnection for villagers and visitors alike.
The benefits of the new organ to the church and community will be the facilitation of more beautiful music, and new educational opportunities for amateur and professional musicians of all ages. Throughout the ages, congregations have added to and renewed their places of worship. The Orford Organ Project is part of our vision for maintaining a more sustainable church in the 21st century, one in which more joy will be created for generations to come.