Story
Jasper was born at the Sanctuary to a stray Mum, and Beanie was brought to us as a 4 day old orphan, abandoned in a warehouse with her eyes still closed, small, vulnerable and helpless. As with many of our young kittens, Beanie was hand reared by one our staff members and Jasper was given around the clock care to increase their chances of survival and eventually thrive in permanent loving forever homes.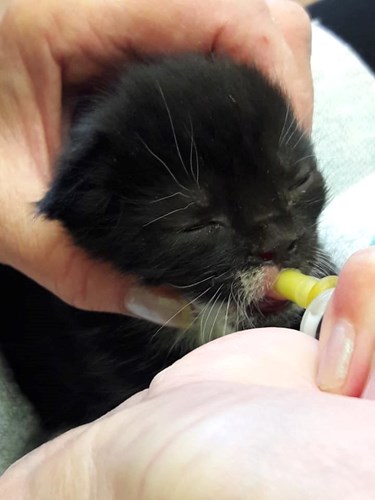 Sadly, after the first few weeks we started to see problems occurring in both kittens. When eating, they would choke, froth and vomit and seemed to struggle to breathe until they regurgitated everything in their stomachs. Our staff immediately realised that they needed urgent medical attention and, being so tiny and under-developed, our vets at Vale Vets advised us to continue hand feeding just a teaspoon of soft food at a time to try and help them gain weight and condition before taking them to see a specialist to help diagnose the issues. With intensive round the clock care, both kittens started to gain weight and last week they were able to see a specialist at Langford Small Animal Referral Hospital.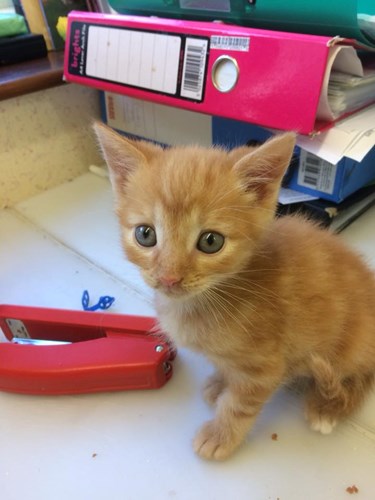 Astoundingly, both Jasper & Beanie have both been diagnosed with poor oesophagus motility, an incredibly rare condition that only a few vets have ever seen, in fact in 20 years, this is the first time we have seen the condition in a cat so to have two unrelated kittens with the same condition is unheard of!
Having poor oesophagus motility means that the tube food passes down is enlarged and does not push food into the stomach as it should. To add to an already tragic situation, poor Beanie has also been diagnosed with a Grade 4 Heart Murmur caused by a hole in her heart and Mitral Valve Dysplasia, meaning she has an abnormally enlarged heart.
It is likely that this condition will be life long for both kittens and that medication will not improve the genetic defect. Although this might sound like there may be no hope for them with no cure, the key is management of their daily feeds with elevated feeding, allowing time after eating for food to reach the stomach before any activity and diet trials.
Both Kittens will need regular monitoring, scans, and check-ups with the specialists at Langford. We hope in time that through careful management we may see some improvements to their health. However, the vet fees are escalating into the thousands and therefore we are appealing for help to raise desperately needed funds to provide for their medical needs as well as to help other special cases like these.
Our promise has, and always will be, to do everything we can for the animals who come into our care and provide for all their medical needs.
Whilst these kittens have a good quality of life, are happy, playful, well in themselves and pain free, we strongly believe that they should be given every chance to have the best life possible until such a time as this may change. It is after all, only what every precious animal deserves.
Please help us to care for these beautiful kittens who, against all odds, continue to thrive with the expert care provided by staff, volunteers and vets. We cannot carry on the work we do without your kind and greatly appreciated support, so please consider helping us to help them. Thank you for taking the time to read Jasper and Beanies stories.
Please note that any monies raised above their treatment will be used to care for other animals in their time of need.