Story
Sleep Over at the Principality Stadium is a challenge event for young people and children aged 8 to 18 years old; Spend the night at the iconic Principality Stadium to end homelessness and change futures for vulnerable young people, women, and families at risk of homelessness in Wales.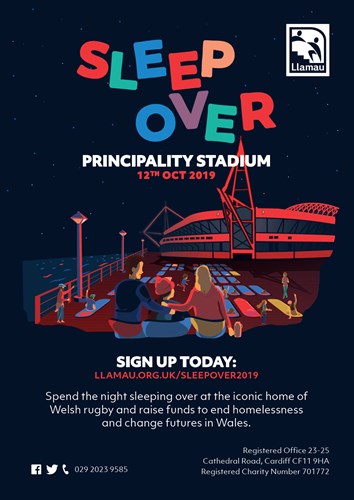 You can choose to spend the night sleeping in the concourse of the Principality Stadium, or sleep outside on Riverside Walk!
If you choose to sleep outside, you'll be in a fenced off area that will be stewarded by Llamau staff all night to make sure you and your family are safe and secure.
All children and young people under the age of 18 years old must be accompanied by a responsible adult. While we will do everything we can to keep you and your family safe, ultimately you are responsible for the young people you bring to the event.
Adults will not be able to attend the Youth Sleep Out unless they are chaperoning children or young people.
We ask that you adhere to a ratio of 1 adult to 6 children.