Story
The project:
'I salute all those involved....this is an imaginative, intelligent, progressive, practical project. This is proper conservation done properly.'
Chris Packham, June 2019
For centuries the stork has been used as a symbol of rebirth and renewal, and we hope its return to Britain will help kick-start a movement for the wider restoration of nature"
Isabella Tree, author of 'Wilding' and co-owner of the Knepp Estate.
Since early times the white stork has represented new life, rebirth, and renewal. Across Europe their arrival from Africa in spring is a source of joy. Storks bring good fortune, bumper crops and, of course, a new generation of human babies in their beaks. They symbolise hope, health, and happiness.
In a time of increasing disengagement with nature in the UK, bringing back these endearing birds can reignite our affection for the natural world, acting as an emblem for environmental restoration.
The White Stork Project is led by a pioneering group of private landowners and nature conservation organisations who are working together to help white storks return home to Southern England for the first time in several hundred years. We aim to restore a population of at least 50 breeding pairs here by 2030 through a phased release programme over the next five years.
Meet the team:
Knepp Estate in West Sussex provides the project vision. This is the primary release site for white storks, where some birds are managed in captivity.
Wadhurst Park Estate in East Sussex and Wintershall Estate in Surrey provide captive management of some birds and are release sites.
Cotswold Wildlife Park provides husbandry expertise and have a captive population of white storks from which birds are provided for release.
Roy Dennis Wildlife Foundation provides technical reintroduction expertise.
Durrell Wildlife Conservation Trust provides post-release stork monitoring expertise, public engagement work and, more recently, has taken on the role of coordinating the overall project .
How you can help
We need support for two particular aspects of the project. Firstly, to help us monitor the storks in the wild. Secondly, to help us deliver a wider programme of public engagement activities, including visiting schools to talk to children about the project. Your donation could provide the following:
£10 provides ten colour rings, which we use to identify each individual bird
£25 feeds the storks at Knepp for a day
£35 buys a My Naturewatch Camera to mount on a stork nest. These cameras will enable us to monitor nests and find out what food is being brought to the chicks, as well as being used as a tool for enthusing local groups and schools
£200 provides for a school visit from our Project Officer
£1000 pays for a hi-tech GPS tag for tracking the migration of a young stork
Project update:
The project received some fantastic news recently: a pair of our storks has been nesting in an oak tree on the Knepp Estate in West Sussex.
Here is a bird's eye view of the first white stork nest at Knepp. It's over 14m up in the top of an oak tree!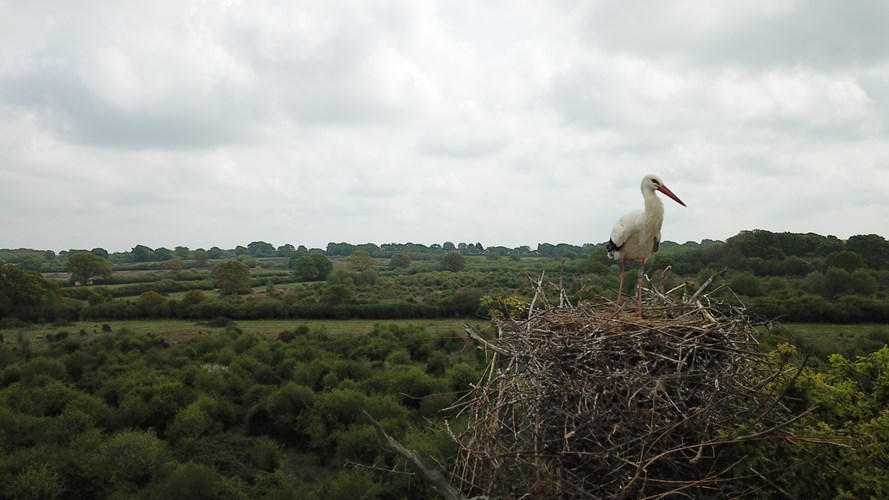 And this is what the first nest at Knepp looks like from the air!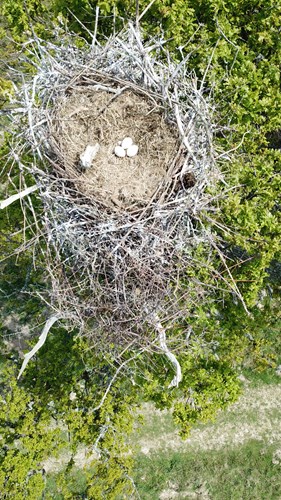 You can find out more about the project and the latest news by visiting the project website .