£5,838
raised of £3,000 target by

1263 supporters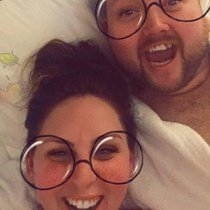 Debbie Harvey-Hale
We've raised £5,838 to Help fund a specialist bed for our amazing daughter Ruby !
Funded on Friday, 10th August 2018
Crowdfunding is a new type of fundraising where you can raise funds for your own personal cause, even if you're not a registered charity.
The page owner is responsible for the distribution of funds raised.
Story
UPDATE: I don't know what to say! Thank you just seems so feeble! I received a phone call last night from my sister to tell me that Jason Manford had shared our story to his fb page where his #charityninjas would see! I was already stunned to have reached nearly half way within 24 hours , and then to go above and beyond that has literally blown my mind. It's so difficult to put it all into words. To my friends , my family and to people who havnt even met my Ruby , we owe you so much. The love that you have shown for our little girl, the kind words and the donations have literally made my heart happy. To know that the pressure has been taken off of our shoulders is a strange but amazing feeling. The power of people coming together is mindblowing! If I had have known five weeks ago that I would be posting this today I wouldn't have believed it. To have been blessed enough to get that second chance with my girl and now with each and every one of your kind donations it's time to look forward, to heal and to enjoy every moment with our incredible Ruby ! Thank you will never be enough x
Ruby is our completly incredible and very loved 9 year old dolly! She has a very rare syndrome called Kleefstra Syndrome. Whilst this results in very severe learning disabilites , complex epilepsy and a background involving many various stuggles, above all else she is our very happy, loving , funny and sassy daughter who is a great big sister to her younger sisters Isla and Robyn. Ruby is and continues to be the light and love of our lives.
It is really hard for us to ask for help. Since having Ruby we have always done our very best to provide any equiptment and therapy that she needs either by approaching a charity or by saving really really hard ourselves. After recent events we have realised just how desperate Ruby is in need of her own bed. A bed that will provide her with security but that will also aid with any future chest infections by allowing her to rest with a matress that can be angled to allow her chest to drain.
Last year we made the decision to move house so that we could provide a better enviroment for Ruby and for us as a family. We absolutely love our new home but it needs work throughout , none more so than in Rubys room which was the master bedroom with an ensuite. Whilst we are saving for her walk in shower room and her 3 sessions of private physiotheraphy this year , it unfortunately leaves nothing in the pot for Rubys new bed. Whilst i of course love having her in our bed to cuddle, i know now that a bed to suit her needs would potentially make the difference in helping to prevent our situation 5 weeks ago.
Your well wishes over the last few weeks have been so truly appreciated and any help or sharing of our giving page would mean so very much to us. With lots of love from the Hale House!!!
For those of you who may not know why we are so desperate for this bed,i have included my latest FB update which gives you an idea of why we are in need of the bed so quickly ...
''Wow...... where to even start??? I took this photo shortly after Ruby woke having spent 10 days on life support in Stoke Hospitals Intensive Care Unit! The past 5 weeks having truly been the most terrifying weeks of our lives! What started out as a chest infection unexpectedly took a very nasty and quick turn when Ruby was sick following lots of coughing and resulted in her aspirating and overwhelming her lungs. In short .... Ruby's lungs were already compromised because of her chest infection , and the aspiration completely tipped her over the edge which required the need to intubate her very quickly! Thank fully , the doctor looking after Ruby that night spotted very quickly that she was deteriorating and called in the consultant who requested the intubation. Whilst I was outside of her room in what I can only describe as a complete mess, my incredible husband stayed by Ruby's side the entire time. As if the intubation wasn't terrifying enough , I cannot even begin to explain the complete and utter hopelessness I felt when the crash team had to commence CPR because Ruby went into cardiac arrest. I have no words to describe those 5 minutes , the complete numbness that I felt. The complete desperation. Listening to somebody count in the minutes ticking by. Whilst all of this was happening , whilst they where pumping our daughters heart and giving her shots of Adrenalin, I stayed outside listening helplessly, whilst her dad watched every single thing that happened in that room.... whilst he gripped the bottom of her feet so tight, and scratched them with his nails , getting angry with her and telling her she mustn't leave.... that she must fight!!!! After what seemed like the longest five minutes, and all of my hope lost, I was awoken and renewed with fight when I heard them say that they had got a pulse!!!!! Without a shadow of a doubt , I know that along with the incredible doctors that saved her life that night, her daddy is the one that she came back for! She felt those scratches, she felt him squeezing those feet so hard, she heard him telling her to fight, and she came back for him! I can never thank this man enough for staying with our baby when I just couldn't. I can only imagine what he has seen , and that is enough to actual physically hurt my heart. I love you Jason Hale, you have and will continue to be the most amazing man I have ever met! I am so glad you are mine , and so proud of the man that you are. The team that were called from the KIDS department based in Birmingham who came to stabilise Ruby ready for moving her to an ICU were among the most unbelievable professionals I have ever seen. I have never seen anybody literally walk into a room before , to literally take complete control , to have their shit so together with one focus in mind. To keep my girl alive , and to stabilise her as quickly as possible. I can never thank Anneke Gyles and her team anywhere near enough for what they did for us all that night. The staff in ICU in Stoke were just incredible, again their professionalism , and huge amount of compassion was so greatly received. In what is such an uncertain and truly terrifying situation, the calm that is instilled in this unit is really such a comfort. My family who have stepped in .... especially my amazing mum , who dropped everything to move in to our house and take care of Isla and Robyn so that we didn't have to worry about them. So that they could retain some sort of normality whilst we were at Ruby's beside. Without question my mum called her work and asked if they could sign her off indefinitely. Thank fully her work have been fantastically understanding , but this woman would have literally risked her job to make sure she was there for us and our girls. I love you so much. Her husband, not even my girls biological Grandad , has stepped in and treated the girls like his own. I can never thank you both enough for stepping in when we couldn't , for enabling us to be where we needed to be, for giving the little ones such love at such an uncertain time. I love you both.
For my sisters, for Becky who came to visit us every day , helping us to feel normal , for bringing us tea and coffee and allowing us 20 minutes of fresh air and reflection whilst she sat with our girl, knowing that if so much as a number on those machines where to move she were to call us , for completely understanding our despair and being there all the way.
For Vanessa who loves my girl like she is her own , who I know who's heart will be hurting so much like the rest of us , and will take lots of healing. Ruby appreciates your cuddles like no other! I love you both so much.
For my dad and his partner Loretta who have come out of their way again and again to fetch and carry things for us. We appreciate your love for us so much and we love you too.
To my amazing , and loyal friends who have all come into my life one way or another via our very special girl.
Sarah, niki (for messaging me each day and keeping me kind of sane) , Mel , jo , Ann, hayley, donna , gemma, Fiona , Sally, Karen - your messages of support have truly kept me going. I love each and every one of you .
Sarah , you have kept me sane , and made me laugh at times when I could have just cried. You completely understand me , and the love you have for my girl makes me smile from ear to ear. We love you and your family so much.
To each and every friend who has messaged with well wishes , we appreciate every single one.
We are on a very long road to recovery with our girl, as after coming off of the ventilator , Ruby suffered the most dreadful side effects and withdrawals from all of the drugs she was on whilst in ICU. She has been gripped by insomnia , and her seizures have increased too but whilst this girl continues to fight , we sure as hell will do to. Since being home , things have started to settle beautifully , and as we had guessed, Ruby just needed a good nights sleep in her own bed, which is actually in with us, sandwiched in between mommy and daddy. Whilst everyone has always said what a tough cookie Ruby is , we have never truly known just how close to losing her we have become. Well now we know ..... now we have !!!! But this girl isn't done yet. She has far to much to do , she has far too much to teach people. I cannot promise that I won't go into melt down the next time we are faced with illness but never again will I doubt the fight in this girl. My biggest thanks goes to her , to my Ruby. I am so so proud of you, you amaze me every single day, you are the light and love of my life, and I thank you for not leaving me. For giving us another chance to enjoy every single second with you, for allowing us to love you more each and every day! You are my doll, and together we will get stronger! I love you !''
Updates
5
8 months ago

Debbie Harvey-Hale

8 months ago

My Girl!

Share this update to help us raise more

8 months ago

Debbie Harvey-Hale

8 months ago

I just can't believe it. Our entire family have spent the weekend on cloud nine. It's overwhelming knowing that so many people would take the time to donate to show how much they care about our little girl.We of course think Ruby is incredible , but for those of you that havnt met her you can be sure that she would change your lives. She is loved by so many people and has so much still to do! Any extra donations will absolutely go towards Ruby's shower room. The pressure that this takes off our shoulders is immense . Thank you x

Share this update to help us raise more

8 months ago

Debbie Harvey-Hale

8 months ago

Please check out an update on our story. There are only 550 characters to be able to update you here. That is no where near enough space to be able to thank you all for what you have done. For each and every one of you. We are completely blown away! Thank you will never be enough! x

Share this update to help us raise more
Debbie Harvey-Hale started crowdfunding
Leave a message of support
Page last updated on:

4/24/2018

4:39 PM
Supporters
1263
Georgina Gandy

Apr 24, 2018

Hi Debbie, I work in the same class at school with another child, Ruby is a beautiful girl and we're all thinking of her and wishing the best recovery! Just a small donation from me and my family xx

Steven Vaughan

Apr 20, 2018

I can't imagine what you are going thought my heart goes out to you all x

Andrew Bates

Apr 20, 2018

Good stuff.

Rachana Mandayam

Apr 19, 2018

Callum Austin

Apr 19, 2018

Hi Jason, only just read Ruby's story and as a proud dad to a young daughter it really moved me, so here's a little from my family to yours. All the best for the future mate.

Dot & Charlie (Sarahs' Nan & Grandad)

Apr 18, 2018

With lots of love to Ruby

Sarah and Paul Hughes

Apr 17, 2018

Hope your little Ruby gets the bed she needs. Xx
Great people make things happen
Do you know anyone in need or maybe want to help a local community cause?
Create you own page and don't let that cause go unfunded!
About Crowdfunding