Skills People Group
Skills People Group
Team fundraising for
Battersea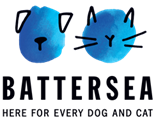 Battersea
We aim to never turn away a dog or cat in need of help, caring for them until their owners or loving new homes can be found, no matter how long it takes. We are champions for, and supporters of, vulnerable dogs and cats, determined to create lasting changes for animals in our society.
Charity Registration No. 206394
Find out more about charity fundraising
Total raised

£1,930.02 + £101.25 Gift Aid

Online donations

£1,930.02
* Charities pay a small fee for our service. Find out how much it is and what we do for it.