#StrutYourSongs celebrates the healing power of music in hard times whilst raising awareness of the devastation of miscarriage and funds for The Miscarriage Association. Participants run, walk, cycle, swim or even swing a giant kettlebell for as long as it takes to listen to their favourite music playlist - literally strutting their songs!
You can read more about the story behind #StrutYourSongs below, but first of all, here's how it all works and how you can join in and help:
1. Donate
We are raising funds to support the Miscarriage Association. Every donation to our campaign will help them to ensure much needed advice, comfort and support is offered to those grappling with the trauma of pregnancy loss or worries during pregnancy after the loss of a baby. Support for the Miscarriage Association is particularly important at the moment. The charity can see that many of their service users are particularly anxious and their need for support and clear, up-to-date information is growing. The team at the Miscarriage Association is determined to make sure that the charity still provides that help. Although they are all working from home for the time being, they aim to continue to be there for all who need them. Their phone lines, live chat and email support systems are all fully operational and their staff and volunteers remain committed to providing the very best information and support to all of their service users. That's why your help now is more important than ever.
2. Join In
This year owing to the ongoing situation and uncertainty regarding COVID-19 we don't yet know if we can run our group event in the countryside near Harewood House. We will continue to monitor the situation and hope we may be able to see some of you for a socially distanced strut up in Harewood! For further updates regarding the event, please follow @strutyoursongs on Instagram. Whatever happens over the next few months, we invite everyone to join us remotely on Saturday 31 July for a socially distant strut - wherever you are in the world! Your challenge can be as long or as short as you wish - all you need you do is make a playlist of your favourite music and then run, walk, cycle or swim - any activity of your choice - for as long as it takes to listen to your music. What could be easier!
Please email strutyoursongs@gmail.com to confirm you'll be taking part - and to ask any questions!
3. Spread The Word
Please help us to spread the word about the fantastic work of the Miscarriage Association, to raise vital awareness of pregnancy loss, and to break the silence surrounding miscarriage by sharing a photo of yourself doing your own challenge (or a screenshot of your playlist) and by posting it on your preferred social media (Twitter, Instagram, or Facebook). You can see a few examples in the photos below from our previous 4 campaigns. #StrutYourSongs has taken us to all corners of the globe in the past 4 years - with strutters from Australia, to Nashville, USA (via mainland Europe!).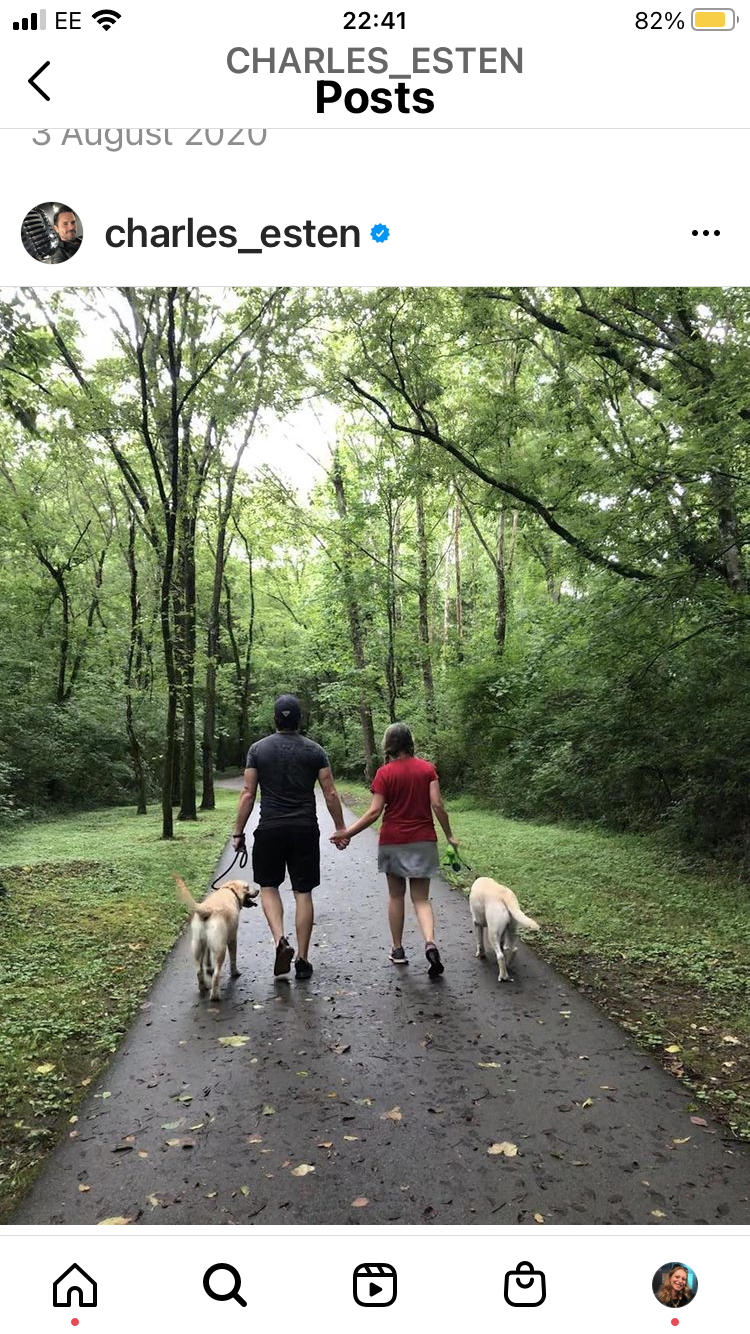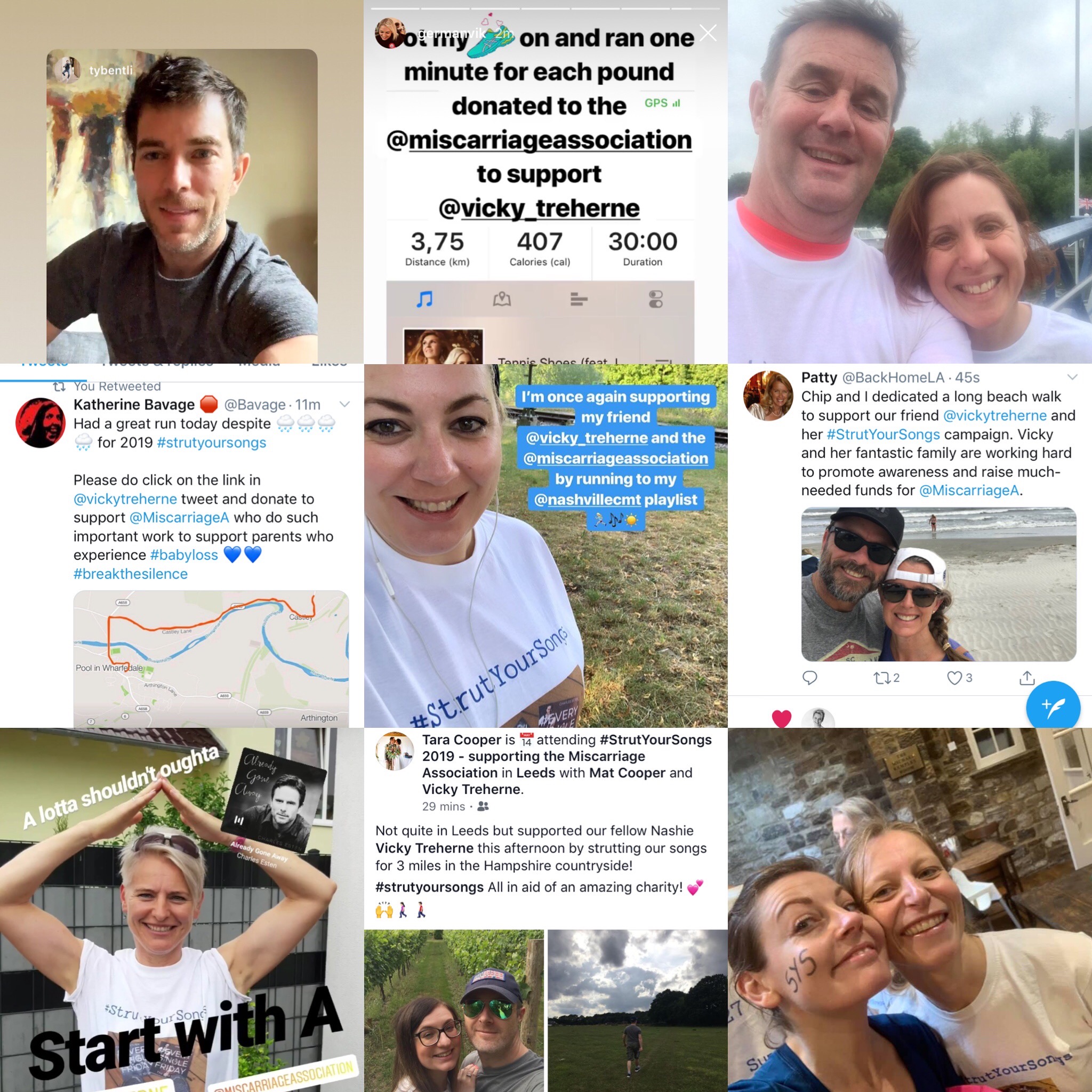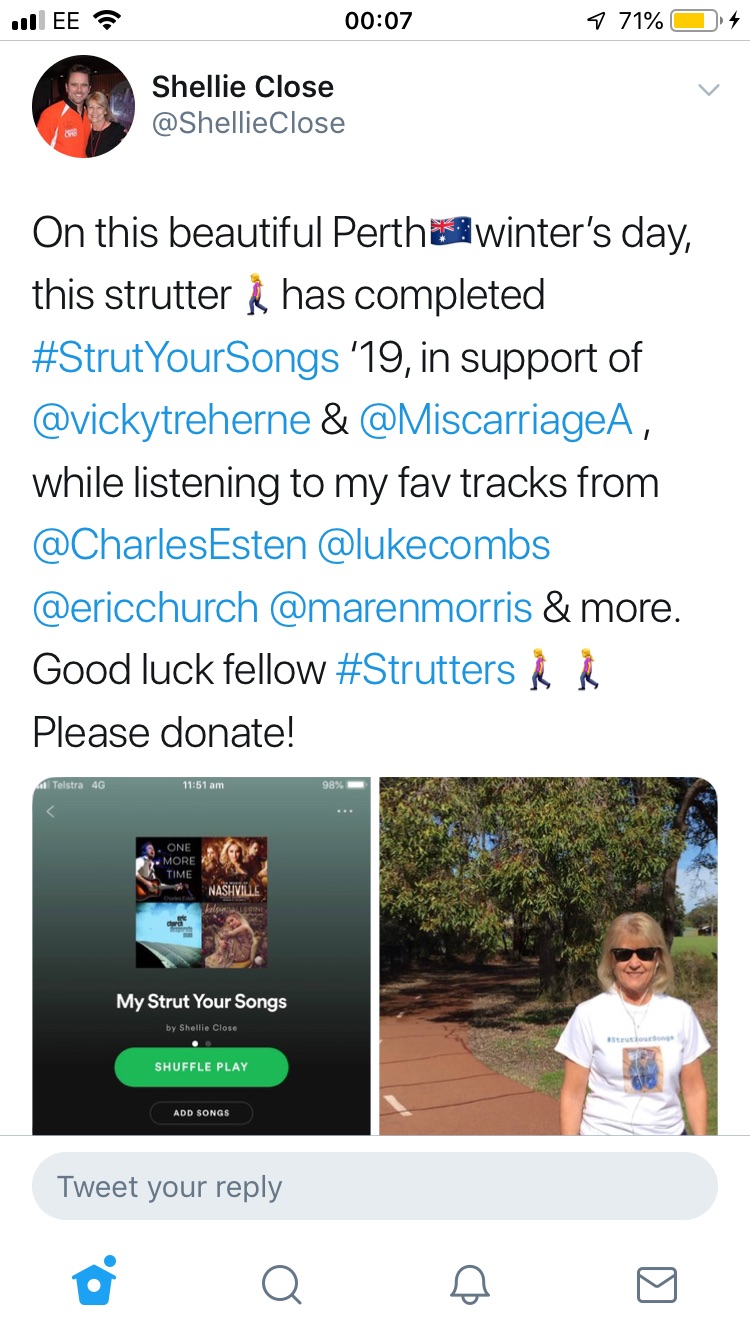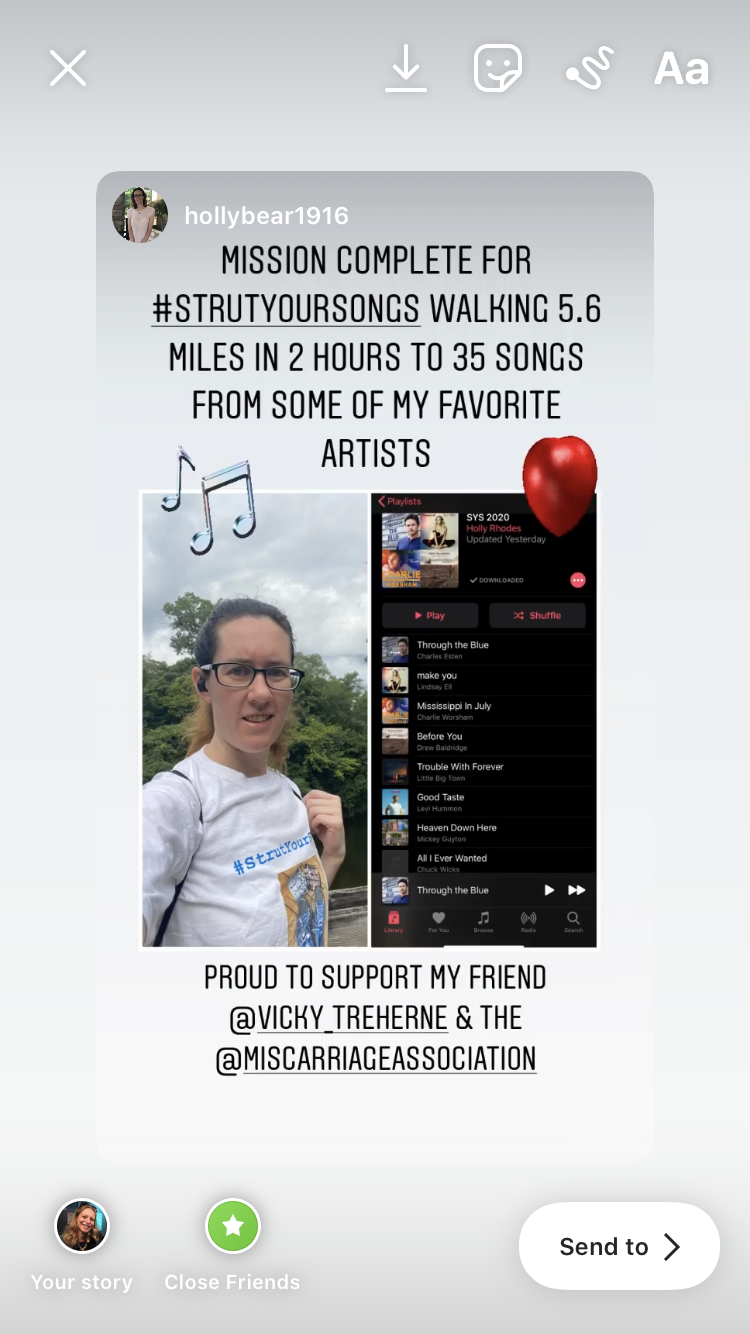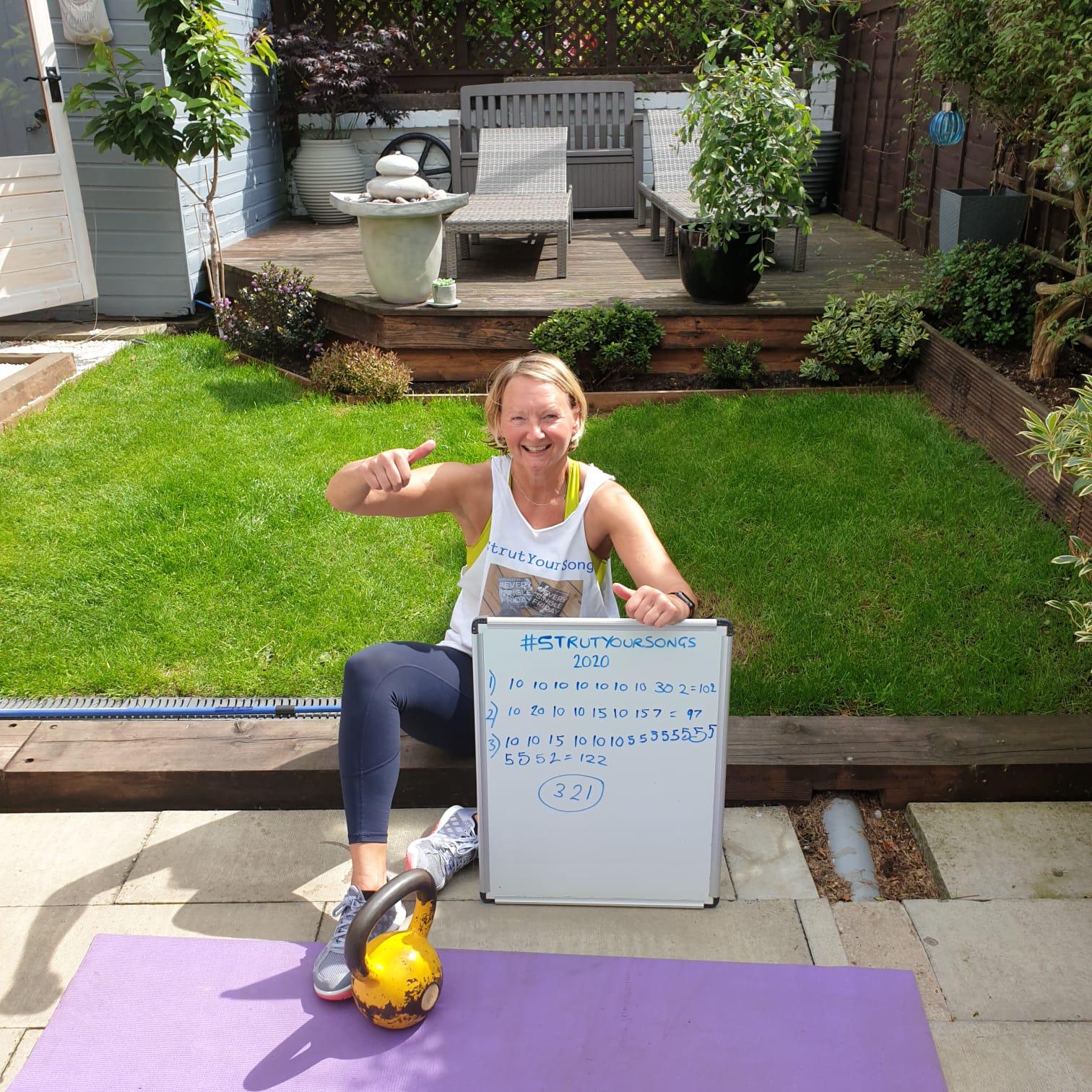 Please use the hashtag #StrutYourSongs and don't forget to tag us - @strutyoursongs on Instagram or @vickytreherne on Twitter.
And finally, if you'd like to know more about the story behind #StrutYourSongs and the Nashville connection you can watch our 2020 Virtual Launch.
Or visit our Team Captain, Vicky Treherne's page
Victoria hasn't set a target

£4,491