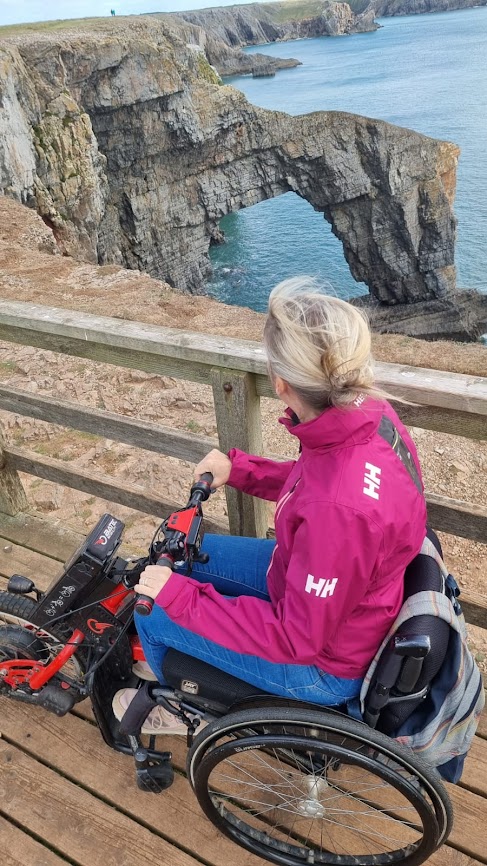 Pretty much every day since my spinal cord injury in 2014 I have thought about how easy it used to be to just step out the door and walk. Just stick on my shoes, open the door, and walk. Simple.
Things are not so straightforward anymore. Walking is difficult, painful and exhausting. For me to get anywhere I need crutches, orthotics, a wheelchair or a trike. I usually need a team of helpers too.
I'm clear though that I don't want my injury to make me give up on my dreams, one of which was to walk the 870 mile Wales Coast Path. So, I have decided to try and navigate the entire Wales Coast Path over the next 3 years. Either by wheelchair, by cycling on my recumbent trike or by hobbling a few steps with my crutches and orthotics. I am asking family & friends to walk sections that I am unable to manage and I am documenting my journey, with details of accessible sections, on instagram as a resource for others with mobility difficulties.
In 2021 the Welsh Spinal Injuries Unit where I was a patient, relocated to Llandough Hospital. I am fundraising for 2 spinal injury charities, both of which significantly improve the lives of patients undergoing rehabilitation at the new Centre. The first is Rookwood SpUR and the second is Horatio's Garden. Click on my fundraising pages below to find out more about each charity. There is one fundraising page for each charity and you are welcome to donate to either or both. Thank you!
You can also get involved with the challenge by following amandascoastalchallenge on instagram.
Huge thanks for all the support.