****PLEASE NOTE: the platform WILL NOT SPLIT equally between the two charities, so you can split your donation to make it even, should you wish. The top donate is for PBSGL and the bottom button on the TEAMS page is for Lymphoma Action. Further details below.****
The Challenge
You could place bets on whether a "not very active" 50 year old, could actually manage to cycle 50 miles around the Lotus Cars test track, on a Raleigh Chopper Mk 2 (which also celebrates a 50th anniversary this year) or you could instead sponsor me - providing of course that both bike and I complete the challenge! Will I go the distance, or will the Chopper give out first? The bike's been serviced, but am I prepared? We'll find out on Sunday October 9th. I'm certainly not a cyclist, and can't claim to be particularly fit, so this will be a very real challenge.
Why?
Having been diagnosed with Lymphoma in 2013, I'd now like to give back to a charity that supported me throughout my treatment, and am very lucky that I'm now all better. I'll confess that I've seen little exercise in the last 30 years, and after 2 years of largely sedentary home working, I recently decided that now is the right time to get on my bike and try raise money to help a national cancer charity, as well as another local cause: Lymphoma Action, and The Care For Life at Home Fund will be the recipients of all monies raised. For more info on each:
https://lymphoma-action.org.uk/ - "every 27 minutes someone in the UK is diagnosed with Lymphoma. with your help we can provide vital information and support they need with their diagnosis, treatment and living with Lymphoma. Together we can make sure no one faces Lymphoma alone."
Just weeks after her 50th birthday, my mum lost her fight against cancer whilst in hospice care. I'm a huge advocate of the work of the Priscilla Bacon Support Group, and wish to support the Care For Life At Home Fund:
"The Care for Life At Home Fund, in association with the Priscilla Bacon Lodge Support Group (PBLSG). Established in 2007, in memory of Sarah Hepworth, (daughter of Lotus Cars founders, Colin & Hazel Chapman) the fund supports palliative care in the home."
How you can help.
Your donation will help the amazing work that these organisations do - helping to support people with their cancer, and helping those who chose to see out their days within the comfort of their own home, with their families.
The platform has required a TEAMS page to provide inclusion for both causes so please feel free to donate to either charity or split your donation between the two. Should you wish to split your donation, please donate below using the buttons next to charity name, and then return to this page (https://www.justgiving.com/team/scottchopper) to donate to the second charity. The top donate button PBLSG and the bottom one is for Lymphoma Action.
Many thanks for reading, and I'll update this page shortly.
Wednesday 5th October: so a day off today which meant a 5 minute interview on BBC Radio Norfolk, quick meeting at work, and then shot up to Birmingham to collect the bike from Paul at Chopper Central. The Black "Prizzy" has been checked and serviced and should be good for the challenge.... I rode it a few feet yards back to the car and wondered how we'll do 50 miles....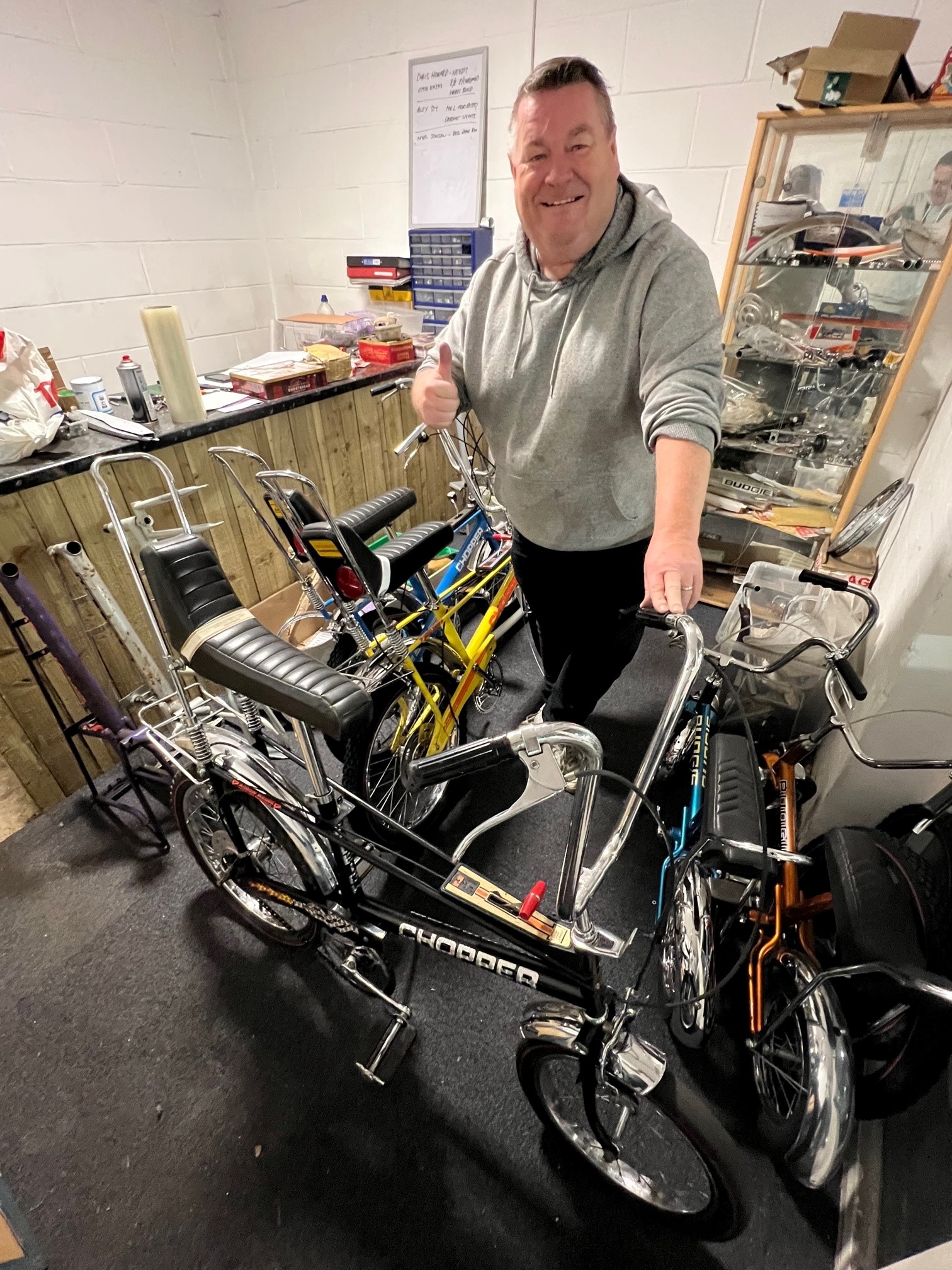 Saturday 8th October: Chopper delivered to Hethel this evening - then occurred that perhaps there was a better choice of machine! Tomorrow, we ride....carb loading and, an early night for me.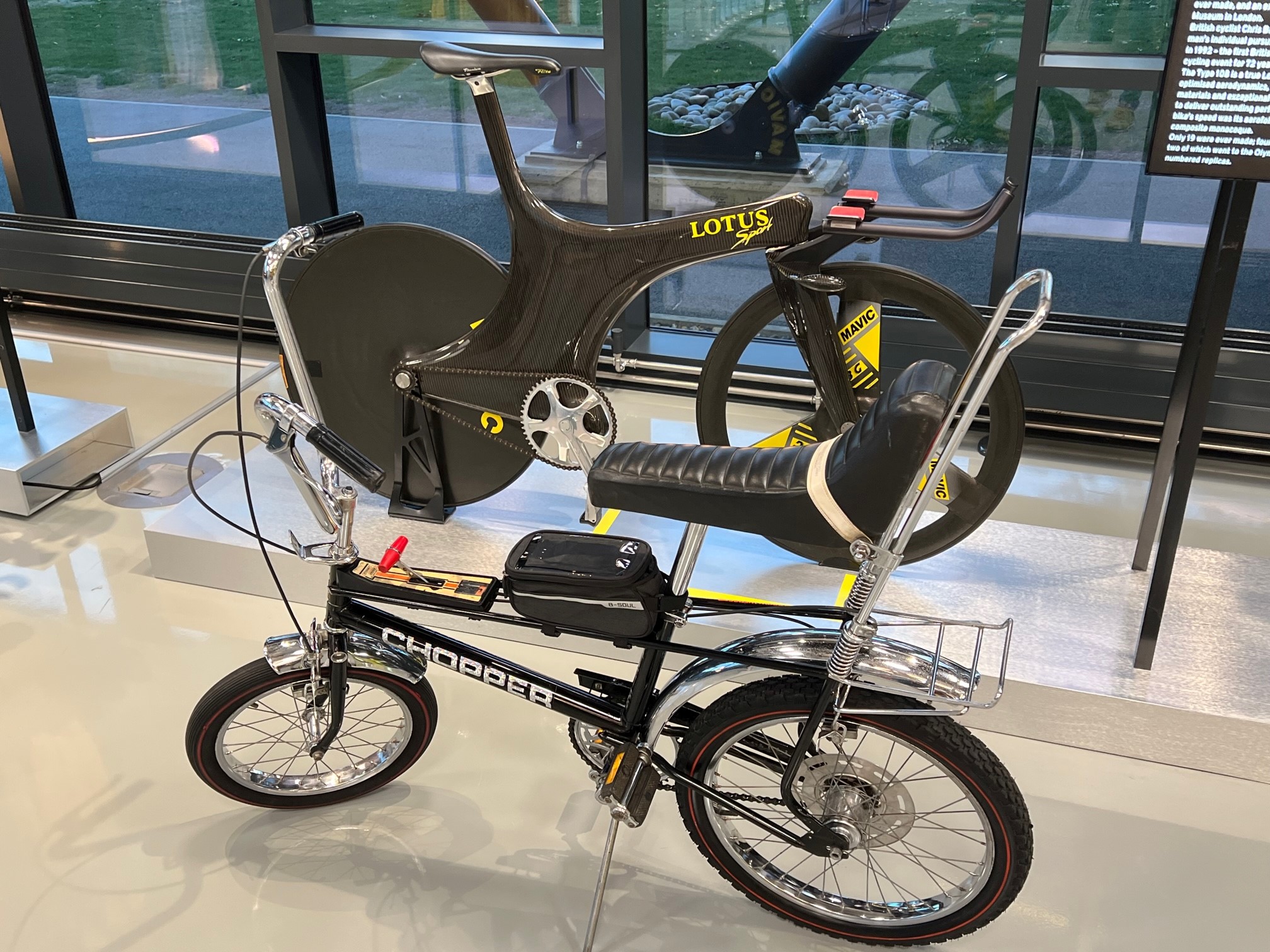 Sunday 9th October. Early arrival, and a track inspection. All clear, a wonderful blue sky, and blessed with a very light wind. Set up and met some other riders, that had joined for some moral support. At 0900 Mr Clive Chapman drops the flag, and we are off. Perhaps excitement get's the better of me - we record a fastest lap on the out lap with 10 minutes, 37 seconds - so about 12.4 mph which isn't bad on an old Chopper! We stopped for fuel and water every fourth or fifth lap, which provided some respite from a very strong headwind. This was the biggest issue - the wind increased as the morning went into afternoon, hit me on the Fittipaldi straight, and was really tough past the clubhouse all the way until Andretti hairpin, when we could relax and find proper rhythm again. The last 8 miles were particularly tough on knees and thighs, but with the help of plenty of loud spectators, we crossed the line at 1534, with ex F1 Team Lotus Driver Martin Donnelly waving the chequered flag. A VERY BIG THANKYOU TO EVERYONE WHO HAS SO GENEROUSLY DONATED TO BOTH CHARITIES, and to my co-riders on the day.