Story
The team at the National Amyloidosis Centre (NAC) has worked on many aspects of amyloidosis for more than 40 years, making fundamental discoveries about the disease. In parallel we have continuously devised and implemented new methods for diagnosis and treatment, leading to much improved outcomes for many patients. The 5,000 patients seen and followed each year in the Centre are the largest and most diverse cohort of any specialist amyloidosis centre in the world. The state of the art specialist investigations undertaken for diagnosis and monitoring are unequalled and include key testing that is not available elsewhere.
The patients are also strongly supported by our unique Amyloidosis Awareness Programme that comprises the fully informative and interactive patient information website, www.amyloidosis.org.uk, an expertly moderated online patient forum, patient information leaflets about all aspects of the different forms of amyloidosis, their signs, symptoms and treatments, and regular Newsletters about the NAC and its patients. It also includes the UK Amyloidosis Advisory Group, UKAAG, comprising senior amyloidosis physicians and patients with various forms of amyloidosis, is our Patient and Public Involvement interface that enables full engagement with all aspects of research and clinical practice in the Centre.
Can we get rid of amyloid from the tissues?
Radiolabelled SAP scanning shows where and how much amyloid is present. Successful treatment to remove the protein that forms the amyloid leads to slow clearance of amyloid from the tissues.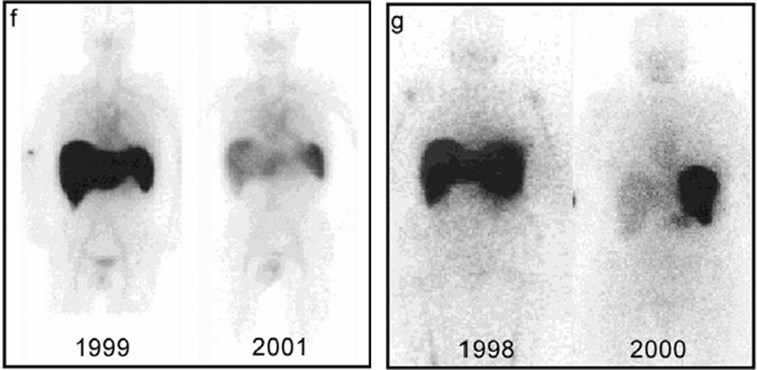 Our new approach, invented here, can swiftly remove amyloid and improve organ function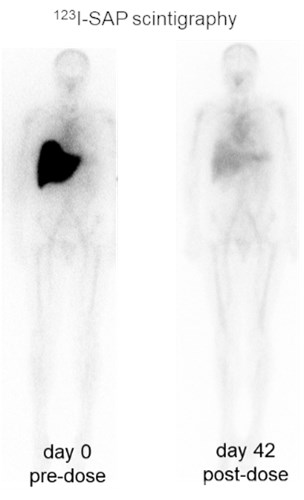 Be a fundraiser
Create your own fundraising page and help support this cause