Story
It's still hard to believe that many children in the UK will spend Christmas in bleak, temporary accommodation, maybe having to leave their favourite toy behind.
Most of us imagine Christmas where children are with their family, in a warm home, with a stocking at the end of their bed and presents under the tree, with plenty of food and fun.
Sadly, for many of the children that are referred to CHICKS, they can only dream of a Christmas like this. The reality of their lives is queuing at food banks and electricity running out on the meter, let alone imagining a small toy or luxuries such as Christmas lunch.
With your help, we can open up our doors and invite children, who have some of the most desperate home lives, to spend Christmas at CHICKS. You can give them a Christmas to remember, one that they will cherish for years to come.
Please donate today .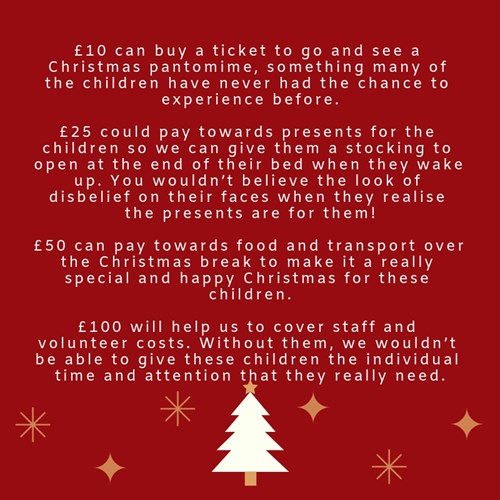 Jo* lives with his mum and older brother. He hasn't had much contact with his dad since he was two-years-old, as he lived in Jamaica. Very sadly his dad passed away last year from an asthma attack and the news of his fathers death has been very hard for Jo to come to terms with. He felt the loss, but he'd also not had the chance to build a relationship with him. In addition, Jo's aunty is very unwell and his mum helps to look after her children too. Jo helps his mum with all of this work. He's a polite and helpful little boy but his life is tough. Mum is looking for flexible work, because of looking after all the children and her sick sister. They live in poor housing conditions and Jo's school regularly refer them to food banks. Jo's mum is trying really hard, but she knows that she wont be able to give them any sort of Christmas. She is so pleased that CHICKS can offer a break to Jo and his cousins.
You can give the gift of hope, of fun and belly laughter at Christmas time. We know it means so much to them because many of these children lose their confidence and self-belief living in their home circumstances. But we also know that by giving them love, care and the chance to experience Christmas as a child, without any worries or stress, in just a few days, we can help connect them to hope and their potential.
If you've been wondering what to give friends and family this Christmas because they've got everything they want and need, our response is please give a donation to CHICKS on their behalf and it will be the best Christmas present you could ever give - to a child who really is in need.
With heartfelt thanks for all your support and a very Happy Christmas from all of us here.
The CHICKS elves
*Names are changed to protect identities