Story
In a single year, over 2,000 children are cared for in the Whittington Hospital Ifor Childrens Ward, all of whom are admitted in emergency situations. This includes children receiving treatment for illnesses such as cancer and strokes. One of the most popular areas of the ward is the Childrens Play Terrace, a secure outdoors space where children can enjoy time with their families, friends and professional play specialists.
After many years of use and appreciation, the Childrens Play Terrace has become dated. In addition to installing new play equipment and fittings, the refurbishment plans intend to double the size of the Play Terrace, incorporating a space which is currently unused. The New Play Terrace will be built to complement a child's treatment and recovery, whilst also offering a safe space to unwind.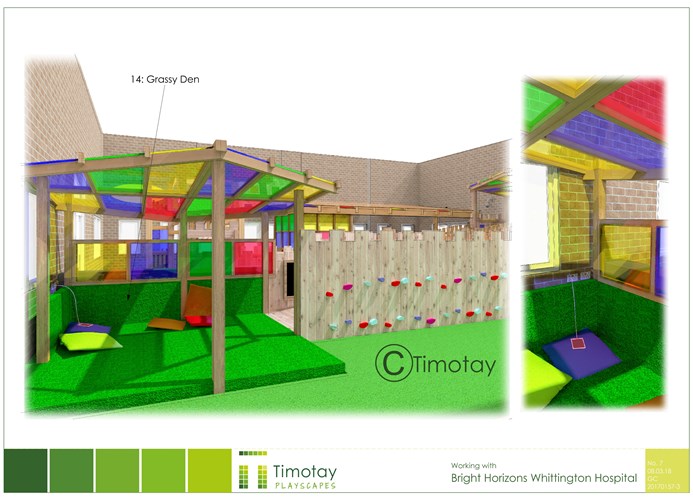 The importance of play has developed into a vital factor when treating children in a hospital environment. Although we endeavour to make our children's ward as friendly as possible, it is still, necessarily, a clinical place for children struggling with their hospital experience, the Play Terrace is a calmer and more familiar environment, away from hospital beds and machines. Children with mental health issues especially value the outdoor area, as well as the rabbits, kept in their own secure hutch. In many instances, the Play Terrace allows children to enjoy their time at the hospital, and instead of being scared of returning for treatment, they arrive happy and calm.
The design of the Bright Space has been developed collaboratively with the hospitals paediatric team and patients, the Bright Horizons Foundation for Children and playscape design specialist, Timotay, it includes:
Decking and ramps to provide access to the entire space and support gross motor development
Rainbow canopies which catch the light and rain, stimulating the senses; and provide shelter and shade in all weathers
Rabbit hutch and shelter to accommodate the wards rabbits, which reduce childrens anxiety
Bespoke London cityscape construction area and chalkboard which reference the external environment familiar to the children, and support gross and fine motor, and creative development
Den and play tunnel
Tactile panels and chalk boards
Dedicated teen retreat for older children to enjoy
The works are estimated to take up to 8 weeks to complete. Our plan is to officially open the Whittington Play Terrace by Summer 2019.
We hope that you will support our project to transform our Childrens Play Terrace into a Bright Space, which our youngest patients and their families can use and enjoy for many years to come. If you would like any further information, please contact Eddie Mitchell at fundraising.whitthealth@nhs.net.