£72,960
raised of £500,000 target by

2051 supporters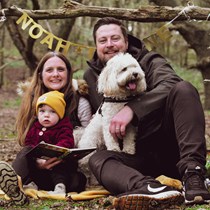 Joshua Grainger
We're raising £500,000 to Compassionate Treatment for MNGIE
Don't have time to donate right now?
Story
MNGIE (mitochondrial neurogastrointestinal encephalomyopathy) is an ultra-rare life-shortening genetic condition that blocks the production of a particular enzyme, causing a build-up of metabolites in the blood that damages mitochondria. So rare in fact, that there are only around 200 people documented to have the condition worldwide. Sadly, my wife Verity is one of these cases. MNGIE is an unmerciful condition that impacts many areas of the body and causes it to slowly degenerate.
Unfortunately, there is no proven treatment for this condition. The only unsubstantiated option we have been given is to attempt a bone marrow transplantation, which comes with considerable risk. A previous trial of this in patients with MNGIE was overwhelmingly unsuccessful and the results of this make for grim reading.
There is, however, a safer treatment known as enzyme replacement therapy, which has previously been used in clinical trials to treat this condition with promising results. Enzyme replacement therapy works by encapsulating the missing enzyme in red blood cells. This allows the enzyme to survive long enough for the treatment to be effective without the body's immune response breaking it down. This would mean regular infusions of the enzyme would be needed, around every 4-6 weeks which would allow the body to perform the function it cannot do on its own, i.e., being able to remove the mitochondria-damaging metabolites from the bloodstream.
This has been approved for compassionate use, but comes at a considerable expense, estimated to cost around £500,000! (Not including the 2.9% + £0.25p per donation JustGiving fees). This would cover the cost of a neurologist to conduct the trial, the continued manufacturing of the enzyme, and any patient costs. This will not only provide the treatment for Verity, but also her sister, Zillah who also has the same condition. This would be run at St George's University Hospital in London.
We understand that this is an enormous sum of money but when you break it down, if 50,000 people were to give £10 or 100,000 people gave £5, we would achieve our goal. This makes it seem far more attainable. We ask if you can spare any donation to our cause, or failing that, sharing our link to as many people and different avenues as you can. We will be eternally grateful!!!
Those who know Verity will understand when I say that she is truly an incredible and inspirational lady. Despite her condition, she continues to teach at Tannery Drift First School in Royston, Hertfordshire, where she is an adored teacher, usually of Year 1 pupils, but more recently Year 3. Throughout the pandemic she has put her life at risk to ensure her children are looked after and supported. She is a beloved friend to so many and will always go above and beyond to help those close to her. She is also the most fantastic mother to our wonderful son, Noah, and is literally the light of my life!
We have witnessed first-hand how destructive this condition is, having lost V's sister Gail in January 2021, and I could not live with myself without knowing that we had tried everything possible in an attempt to fight this disease and give Verity and our family the best chance possible! Time is not on our side, and each day that passes without treatment serves to weaken Verity further.
If you have taken the time to read to this point, thank you so much! Please consider helping us! Please give Verity the chance to see her son grow up! Please buy us some time for a permanent cure to become available!
Please read more on Verity (V)'s diagnosis below.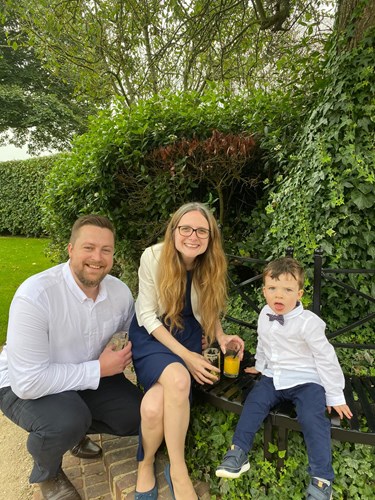 Photo - Our Family
Verity was diagnosed with MNGIE in 2016, but it was a while before this that her symptoms began to occur, and so began a complicated route to diagnosis. From her late teens she remembers beginning to exhibit gastrointestinal issues, such as vomiting, excruciating stomach cramps and diarrhoea and always remembers struggling with her weight and being very petite. This resulted in her having a low BMI, something which would regularly trigger doctors to attempt to get her to gain weight. Something easier said than done with this condition!
These gastrointestinal symptoms would continue to plague her life, seeming to become more frequent and disabling. It was when she met me in 2014 that I began to notice how crippling these symptoms were. It seemed any meal attempted would be shortly followed by excruciating stomach cramps, bloating, diarrhoea, and vomiting. It was distressing for me to see someone in so much pain. This, coupled with consistent weight loss, led us back to the doctor.
This prompted a number of tests in an attempt to identify why she was experiencing such severe weight loss and from such unusual places. The most notable of these tests was an endoscopy and colonoscopy. After receiving the results, we were told that it was a 99.9% probability that Verity had Crohn's disease (despite not being able to take a biopsy from where they needed to as her intestines were too inflamed). From here, Verity was put on a course of steroids to treat this condition, which shares many of the same symptoms as MNGIE.
In December of 2015 and due to rapid weight loss, Verity was hospitalised. Her body was rejecting any food she was eating, and she needed medical intervention to help regain her strength. It was whilst in hospital that she was taken off steroids and put on an immunosuppressant drug called Azathioprine. Very shortly after, in January 2016, Verity began to experience an extreme fever and rapid heart rate and was rushed back into hospital. Doctors were baffled as to what was causing these symptoms, so began a slew of investigations. After 5 nights of severe illness and intensive care, it was determined that Verity had been having an allergic reaction to the immunosuppressant Azathioprine. Something doctors had not seen before. Many tests were carried out during this investigation, including a brain scan which showed abnormalities. This then led to more blood tests to determine if Verity might actually have a different, very rare condition known as MNGIE (although they were pretty adamant it wouldn't be). In June 2016, it was sadly confirmed that Verity did in fact have this condition.
Following on from Verity's diagnosis, her eldest sister, Gail, was also diagnosed. After this, her middle sister, Zillah, was diagnosed. Sadly, in January of 2021 and at the young age of 42, we lost Gail due to complications of MNGIE. Gail and Verity were incredibly close, and we all miss her greatly. She is known to our son Noah, as Aunty GG in the Stars. This is a stark reminder of how ruthless and cruel this condition is.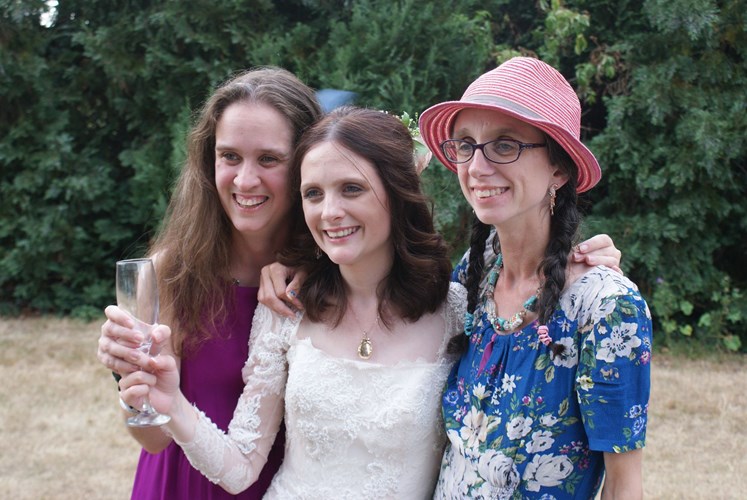 Photo - Zillah, Verity & Gail
Thank you for reading our story. We would be eternally grateful if you could consider donating or sharing this page.
Verity, Josh & Noah
P.S. If you have any fundraising ideas, please reach out!
Note: It has been brought to my attention that when people go to donate, JustGiving mention that they "won't be charging a fee" to us. This is misleading as they do not charge platform fees, the same as GoFundMe, but they do take a cut as mentioned higher up the page. More detail can be found here.
We will begin to build a list of all of the wonderful people who are running their own individual fundraisers to support our cause below.
Philip Martin is running the South Downs Way ultramarathon (that's 50 miles!!!) to support our cause. Philip is the father of one of V's current pupils, Finn. We can't ever thank you enough and good luck smashing this! To support Phil in reaching his target, follow the link below:
https://www.justgiving.com/crowdfunding/phil-is-on-a-run
The wonderful Kayley Fricker is cutting her hair off and donating it to the Princess Trust and in doing so is also supporting our cause! To support Kayley in reaching her target, follow the link below:
https://www.justgiving.com/crowdfunding/haircutformrsgrainger
My good friend, James Farren, is running the Hackney Half Marathon on the 22 May 2022 in support of our cause. We can never thank you enough! You can support him and us using the link below:
https://www.justgiving.com/crowdfunding/james-farren4v?utm_term=jygYKwXmW
My brother's colleague at Tyler Grange environmental consultancy, Julian Arthur, has stepped up to tackle the Stroud Trail Marathon in the Cotswolds on the 8 May 2022. It's a beautiful part of the country but an incredibly tough challenge due to the hilly-nature of the terrain. We are overwhelmed by this gesture! You can support him and us using the link below:
https://www.justgiving.com/crowdfunding/julian-arthur?utm_term=bavn8jyNA
Our good friend, Phil Naylor, has shaved off his beard for our cause. Thank you to our Phil! You can support him and us using the link below:
https://www.justgiving.com/crowdfunding/phil-naylor-beard-shave?utm_term=2Q9pq7yZ5
Our good friend, Dan Barnes, is cycling 100 miles as part of RideLondon on 29th May 2022. Dan, you're a hero and we love you lots. Thank you so much! You can support him and us using the link below:
https://www.justgiving.com/crowdfunding/dan-barnes-2?utm_term=38begX5a2
Updates
13
1 month ago

Joshua Grainger

1 month ago

Share this update to help us raise more

3 months ago

Joshua Grainger

3 months ago

Hi everyone, we are extremely happy to announce we have now reached over 100K in our fundraising efforts!!! A huge thank you to everyone who has donated and shared our story so far. A special thanks to Phil Martin for running his ultramarathon for our cause, Maria João for all her efforts with running our first fundraising event and to Ipswich Town football club and their great fans!

Share this update to help us raise more

4 months ago

Joshua Grainger

4 months ago

Share this update to help us raise more
Joshua Grainger started crowdfunding
Leave a message of support
Page last updated on: 6/27/2022 08.54
Supporters
2051
Phil S

Jun 27, 2022

Best wishes on raising what will be needed for treatment.

Best wishes from Heather xx

Jun 26, 2022

Ashlea on behalf of friends of Linda Long

Jun 25, 2022

To celebrate Linda's birthday, donations were made to your cause.

Anonymous

Jun 24, 2022

Wishing you all the best

Zillah

Jun 22, 2022

Keep up the great work and I know you will get there 👏😘😄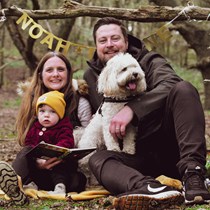 Become a supporter
Help Joshua Grainger raise more
Crowdfunding is a new type of fundraising where you can raise funds for your own personal cause, even if you're not a registered nonprofit.
The page owner is responsible for the distribution of funds raised.