GIVING CHECKOUT™
Explaining Giving Checkout™
to your stakeholders
Use these points to help your stakeholders, trustees, and colleagues understand how Giving Checkout saves time, money, and effort.
Book a Demo
Giving Checkout is free! And its already sitting in your JustGiving charity account, ready to use.
There are no transaction fees (even on regular gifts), so your charity gets 100% of every donation. We do offer your supporters the option to 'tip' JustGiving, but it's not compulsory. Regardless of the donor's decision, your charity will receive 100% of each donation.
Here's how Giving Checkout works alongside our other features.
Giving Checkout forms take about 5 minutes to customise in your JustGiving Charity account. From there, you can start using your Giving Checkout links, buttons, and QR codes wherever you'd like
Anyone with access to your JustGiving charity account can create Giving Checkout links. Adding Giving Checkout to your website is easy.
You can access reports about each donation made through Giving Checkout regardless of which JustGiving membership plan you're on.
Data points include name, surname, email, postal address, and GDPR consent.*
*depending on payment method and availability of JustGiving account, billing or Gift Aid information. In some cases, you may also receive the donor's town and county/state. If you would like to see reporting for Events, your JustGiving charity homepage, Campaign Pages and Fundraising Pages, you will need to upgrade to our Grow Plan.
For questions about Giving Checkout or our other donation tools, email our Customer Success Team
For technical support, contact our Support Team.
Success Stories
Find out how other charities are customising, implementing and optimising Giving Checkout.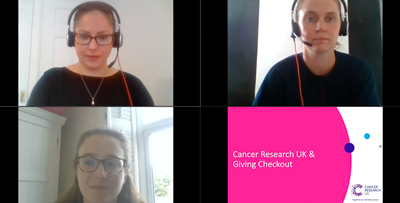 How Cancer Research UK are taking advantage of Giving Checkout
Hear Cancer Research UK talk about the success they've seen using Giving Checkout in corporate partnerships and QR codes, and how they plan to use it to accept international payments on their own platform in the future.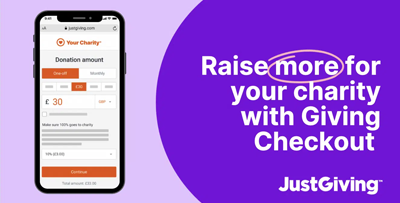 How to double your donations with Giving Checkout
Charities around the world are achieving amazing things with Giving Checkout, including Nelson's Journey and Trinity Presbyterian Greyabbey. Read about their success with Giving Checkout.
Start using Giving Checkout today
You can create an unlimited number of Giving Checkout forms, with different customisation options to suit your charity's needs. Explore Giving Checkout today.