How to embrace online donations
With income growth in the social good community continuing to slow down, digital transformation and the move to online is more important than ever. Now's the time to get your charity primed and ready to embrace this new behaviour.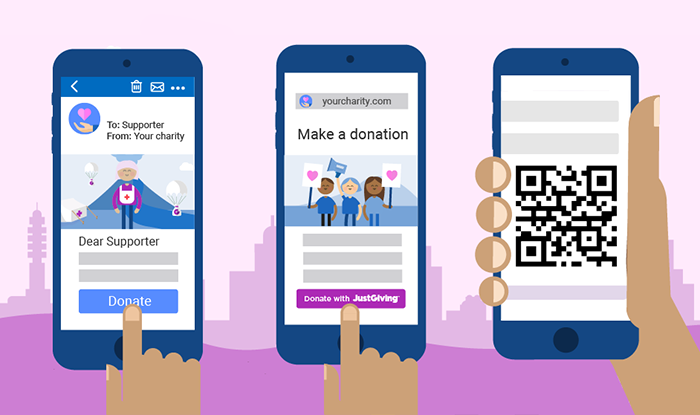 2020 and 2021 were pivotal years for digital transformation in the social good community.
Cash giving reached its lowest level ever during January 2021, with as little as 7% of donors using cash. The number of people giving to charity fell in 2020 but those who did give, gave more, resulting in an overall increase in donations of £700 million.
It's suspected that this spike in average donation amount may be linked to the move away from cash, removing physical constraints and allowing charities to better encourage desired donation values via online donation forms.*
How to build a digital strategy and take advantage of online giving
1. How about a One-Day Flash Fundraiser?
Before you say 'our charity has already held an email fundraiser this year', it may be beneficial to hold a one-day email fundraising blitz. Especially as email fundraising makes up ⅓ of online donations!
Here's how it could work.
Choose a day that ideally has some symbolism or importance to your charity (you can find awareness days and events listed on https://www.awarenessdays.com if you're struggling). You could even give it a unique name to draw people in.
On the day of the blitz, send out a series of emails requesting donations. The emails should include an emotional story, appropriate imagery, and a call to action that expresses urgency.
You could also consider tying your giving day in with your end-of-year giving. This is a great way to add urgency to the day and remind people that it's the perfect time to give. Cross Reach used online giving for their year-end campaign and had great success.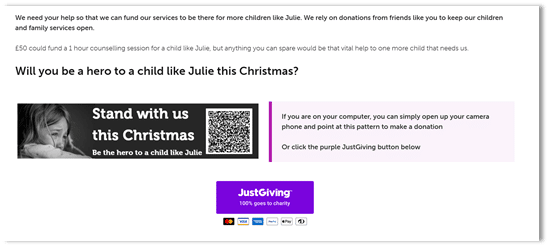 What next? Well, on average 20-30% of the people you blitz with your email will read the message, so don't forget to use social media too. These platforms are a great place to promote your fundraiser, by simply sharing your campaign on Twitter, Facebook, Instagram, LinkedIn, and Snapchat.
Last but not least, remember to set a pound amount goal and periodically post updates throughout the day on social media, to let your supporters know how much you've raised (and how close you are to smashing your goal).
2. Or you could do a Recurring Giving Blitz
These types of campaigns are one of the top online fundraising ideas. In fact, recurring donors give 42% more, over the course of the year, than a one-time giver.
3. Small donors could be your big opportunity
Top tip: Always pay special attention to any donors who give smaller amounts regularly (a couple of times per year). Why? Well, frequency is actually more important than the size of the gift when it comes to monthly giving prospects. You can then use this information to target those donors who may be interested in giving monthly.
4. Ask in Appeals
Whenever you're sending out an appeal, whether it's through the mail or email, don't forget to make monthly giving an option on your appeals. A simple checkbox that says "Make this a monthly gift" will do.
Here's another useful technique: Keep an eye open for any recurring donations and think of how you can make the ask simple and concrete. If you've already suggested giving levels, you could add a short description of what that amount buys for your cause.
Looking to add small monthly gifts from younger donors? Then just break down the size of the gift. This technique has long been used by for-profit businesses.
For example, a car buyer might be scared off by a £20,000 price tag, but the dealer can mitigate this by advertising low monthly payments. Highlighting the per-day cost of a monthly gift is another way to show donors that a recurring gift is affordable.
5. How about actioning a matching gifts strategy?
Top tip: Announcing to donors that their online gift will be matched by a major donor, or a corporation (or small business) can increase revenue by as much as 19%. Matching gift fundraising appeals could increase the probability that an individual will donate by 22%.
If your non-profit is not currently integrating matching gifts into your annual fundraising plan, then you're missing an opportunity to raise more online with relatively little effort. It's a win, win.
6. Google Ad Grants
Okay, Google Ad Grants aren't necessarily a fundraiser, but they do allow you to gain more online eyeballs and traction. The more people learn about your great cause and visit your site, the more chance they could donate.
Here's how it works:
Google offers grants that allow non-profits free advertising for up to £7,000 per month using Adwords on their search engine. These ads are then shown above the search results for specific keywords that are typed in by searchers.
What keywords should you choose?
Just choose any keywords you want your organisation to be associated with, then run an ad campaign through Google. But make sure you think strategically when choosing the keywords and the page they'll click through to, as this will help you get additional brand recognition and more supporters over time.
7. Getting more out of your donations
Everyone knows that getting donors to your cause is challenging. But not everyone knows that your donor acquisition doesn't actually stop once a supporter reaches the donation form.
Many charities don't realise that most of their supporters landing on the donation page aren't finishing the process. In fact, 70% of potential donors come to a non-profit's donation form and leave before completing the transaction. That's a lot of potential funds your non-profit is missing out on.
As we're talking donation forms, let's talk Giving Checkout. This simple online form is really easy to deploy, can be personalised and gives you 100% of the donation, as there are 0% fees. Maybe that's why it's 4.7 times more likely to convert more online donations for charities like yours!**.
---
Whether you're a small, medium or large organization, online giving is on the rise. Add online giving to your existing campaigns or introduce new ideas to your fundraising strategy and help your organisation benefit from this growing trend.
*From the Charities Aid Foundation UK Giving Report 2021.
**Based on industry benchmarking activities outlined in the M+R Benchmarks 2021 Study.
Start using Giving Checkout today
You can create an unlimited number of Giving Checkout forms, with different customisation options to suit your charity's needs. Explore Giving Checkout today.