CAMPAIGN PAGES
Campaign Page Guide
Use our step-by-step guide to create the best online fundraising campaign possible.
Getting Started
Once you're logged in, choose a campaign from your account's admin page.
This opens your campaign settings, then you can click the tabs on the left sidebar to navigate the different sections.
As you complete the sections, a green check mark will appear to let you know each section contains the required information.
You can click Save in the top right to save your changes as you go.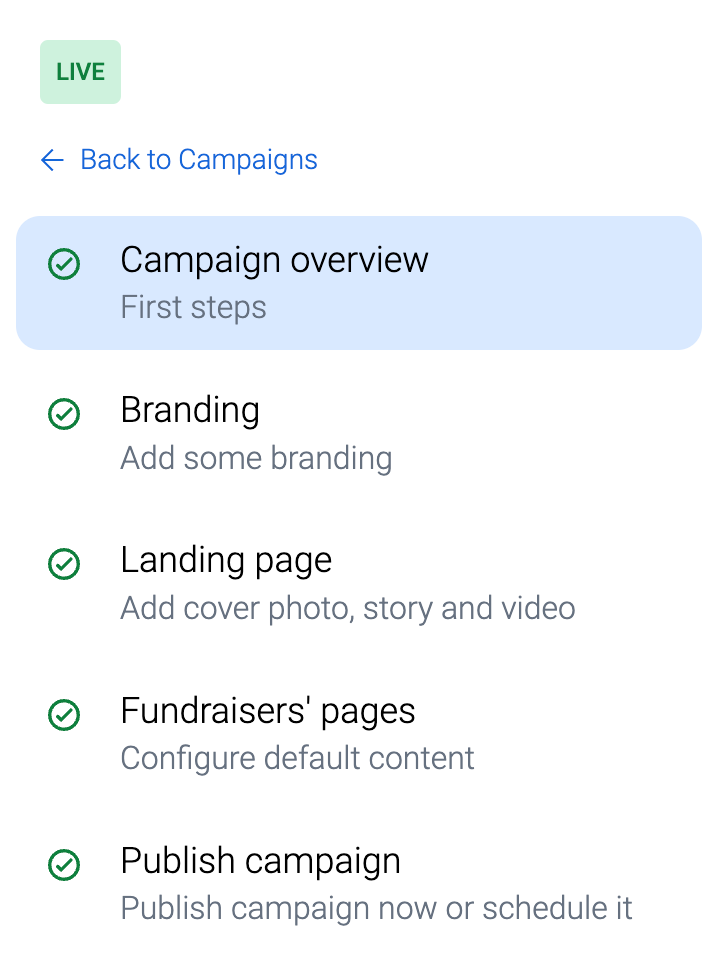 Campaign Overview
Add your title, description, fundraising target and event details.
This section covers the key elements of your Campaign Page, including its title and details.
Campaign title and description
Include a specific title and description for your campaign. This is what will appear in our search results, and what people see first. It's a fantastic way to help people quickly understand your campaign!
Fundraising target
Make sure to include a target for your campaign to give supporters something to aim for and help them build toward a collective goal.
Personalised donor thank-you messages
When people donate to your campaign, they'll get a standard "thank-you" message from your charity by default. We highly recommend personalising this for the biggest impact! It's an amazing opportunity to let your donors know much you appreciate them.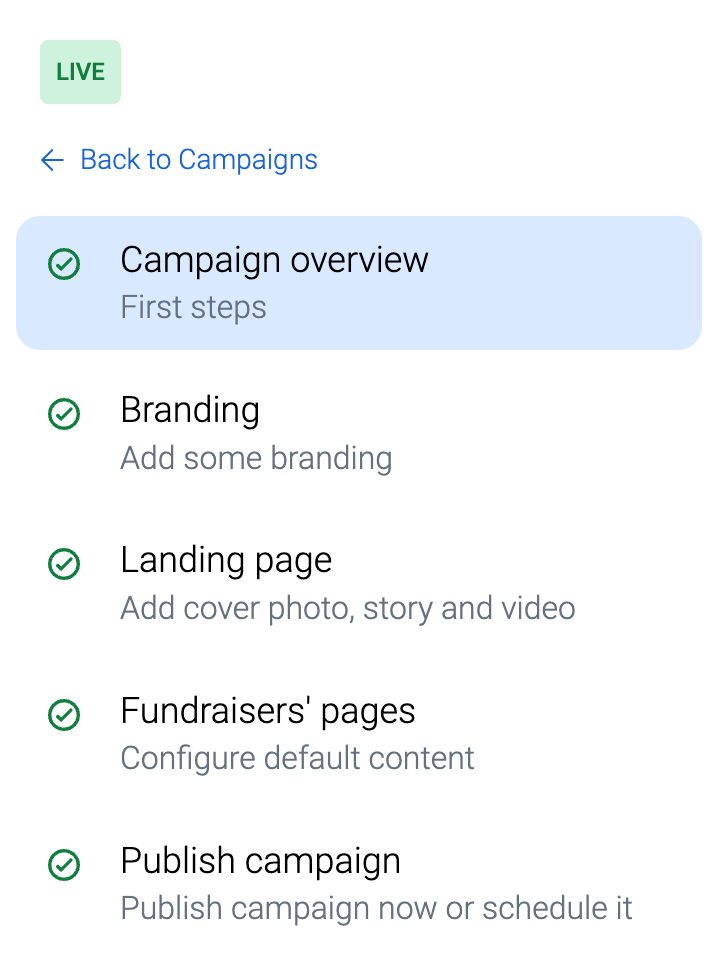 Campaign Branding
Make your Campaign Page stand out with your charity's logo, colours, and a custom background.
In this section, you can customise your Campaign Page's default settings to match your charity's brand, mission, and specific campaign objective.
Logo
Add your charity logo so it appears on your Campaign Page and your supporters' fundraising pages. If you have a logo specifically for your campaign, you can add it here too.
Colour settings
In the colour settings, you can choose your charity's colours. This helps visitors recognise your charity and can really make you stand out!
Background
To optimise your branding, choose a background colour, or an image that's in landscape format, featuring either a repeating pattern wide, zoomed out image, and avoid text in this image.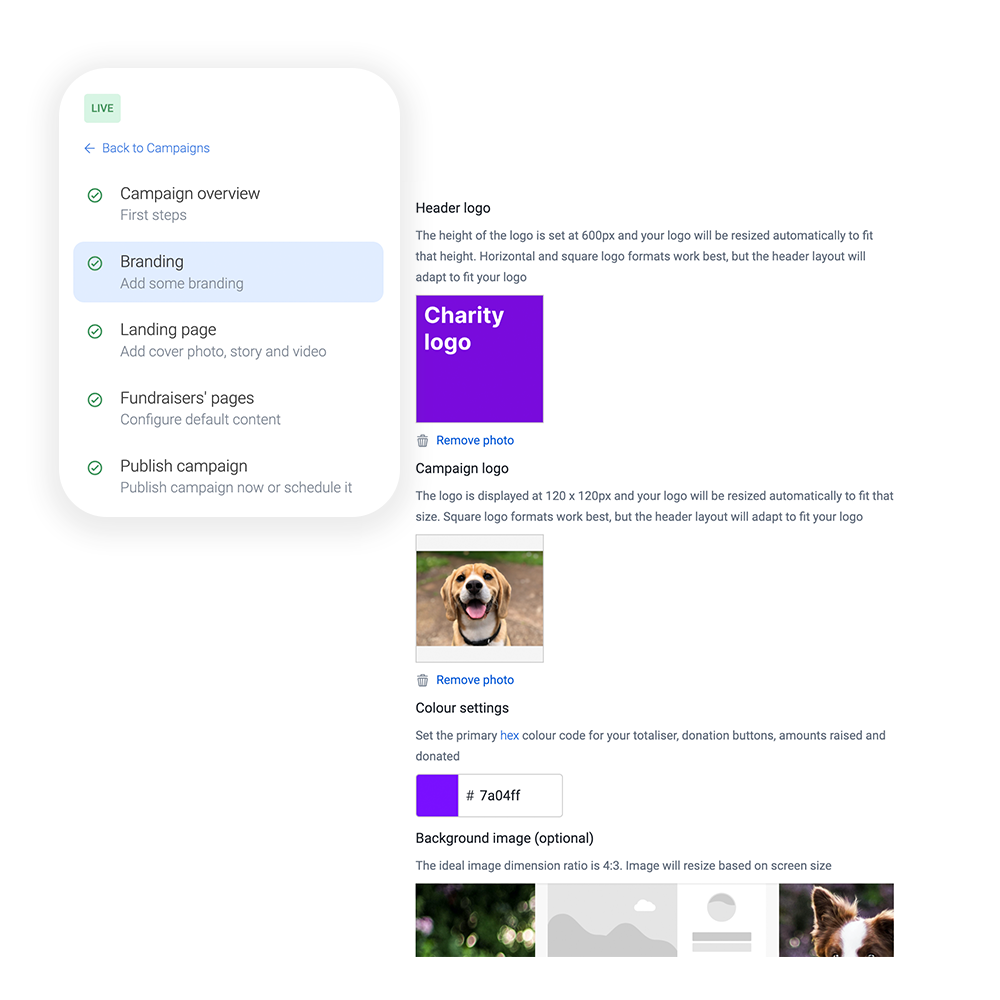 Campaign Landing Page
Add a cover, story, and media to your Campaign Page
Here's where you can really take your Campaign Page to the next level.
Cover
First, choose an engaging cover for your page. You can use an image, video, or even livestream to make it even more engaging for supporters!
Story
In your story section, you have the opportunity to talk about your campaign and how you're planning to make a difference.
Use titles, section headers or bullet points to help break out the story or insert images to help tell your story. Can you include a 'shopping list' of examples of what different amounts would cover for your charity? Why not embed a video?
Get specific here and talk about what your charity will do with the money you raise. Try to keep this short and engaging for maximum impact!
Search thumbnail
This is the photo people will see when searching for your campaign on JustGiving. Upload an image with your logo that also shows your supporters how you'll help your beneficiaries.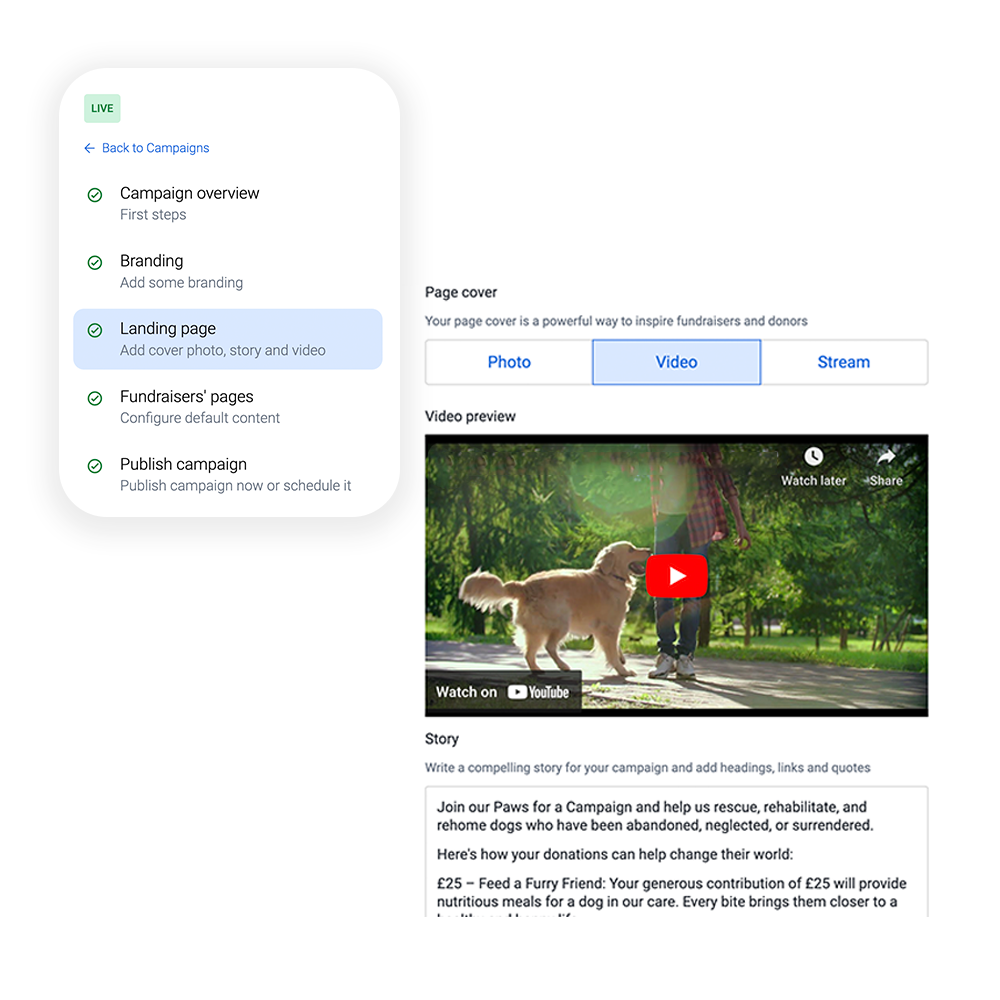 Fundraising Page Content
Define default content and targets for fundraisers' pages
In this section, you can enable fundraisers to create Fundraising Pages for your campaign and collect donations on your behalf. This is one of the most powerful and popular ways of raising money online!
From here, you can specify the contents that appears automatically when someone creates a new Fundraising Page for your campaign. This allows you to control the messaging and guide the fundraising goals for all your supporters.
Default page title
The default page title will appear when a fundraiser creates a Fundraising Page for your campaign but doesn't choose their own title.
Default target
The default target is the fundraising target suggested for fundraising pages created for your campaign and will apply unless they choose their own.
Default cover photo and story
The default cover photo and story you upload here will appear on each Fundraising Page created for your campaign. Make this something that represents your charity, like your beneficiaries, a project you've done, or your team cheering on your supporters!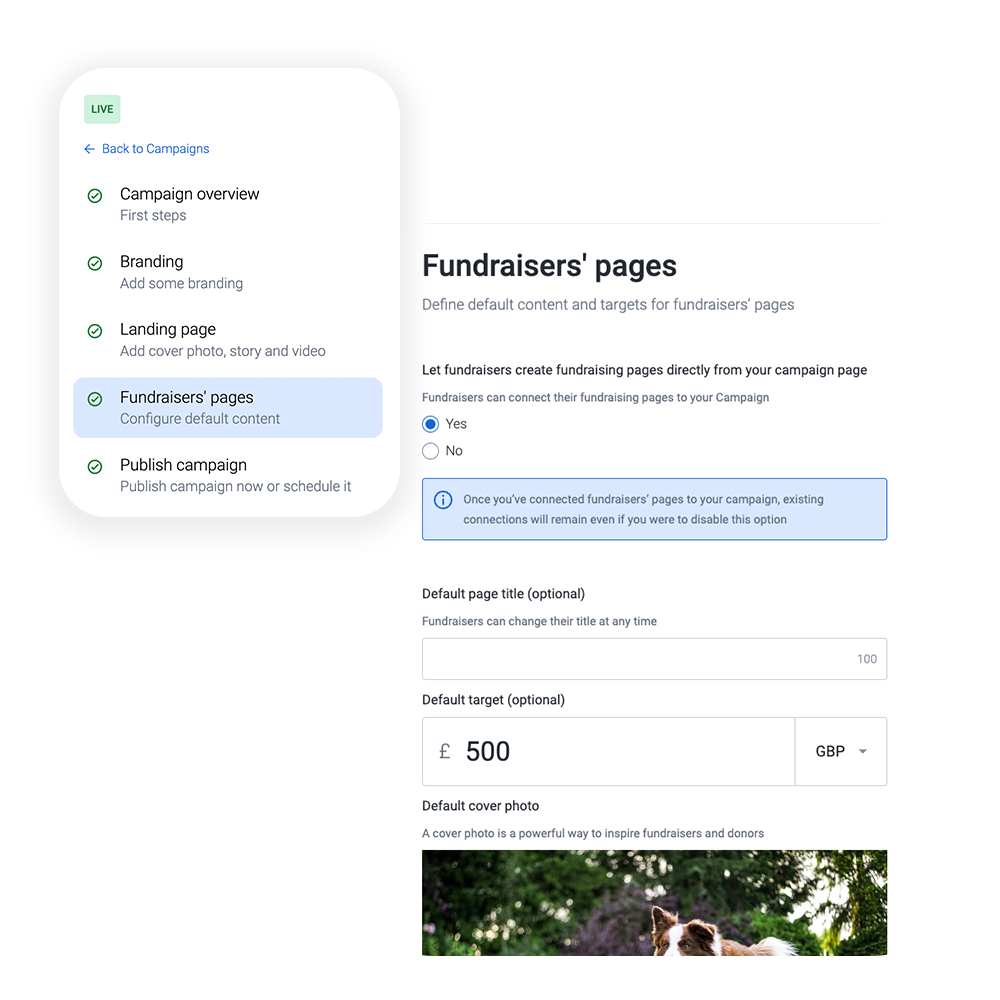 Schedule or Publish
Publish your Campaign Page now or schedule it to go live on a specific date
Time for the final step: launching your Campaign Page!
First, customise and create your Campaign Page's link. This is the address that will appear on the internet for the public. Reminder: this text can't be changed after your page is published!
Before publishing, select Preview in the top right-hand corner to spot typos and check out how your page looks.
Finally, click Publish when you're ready, or Schedule to go live at a later date.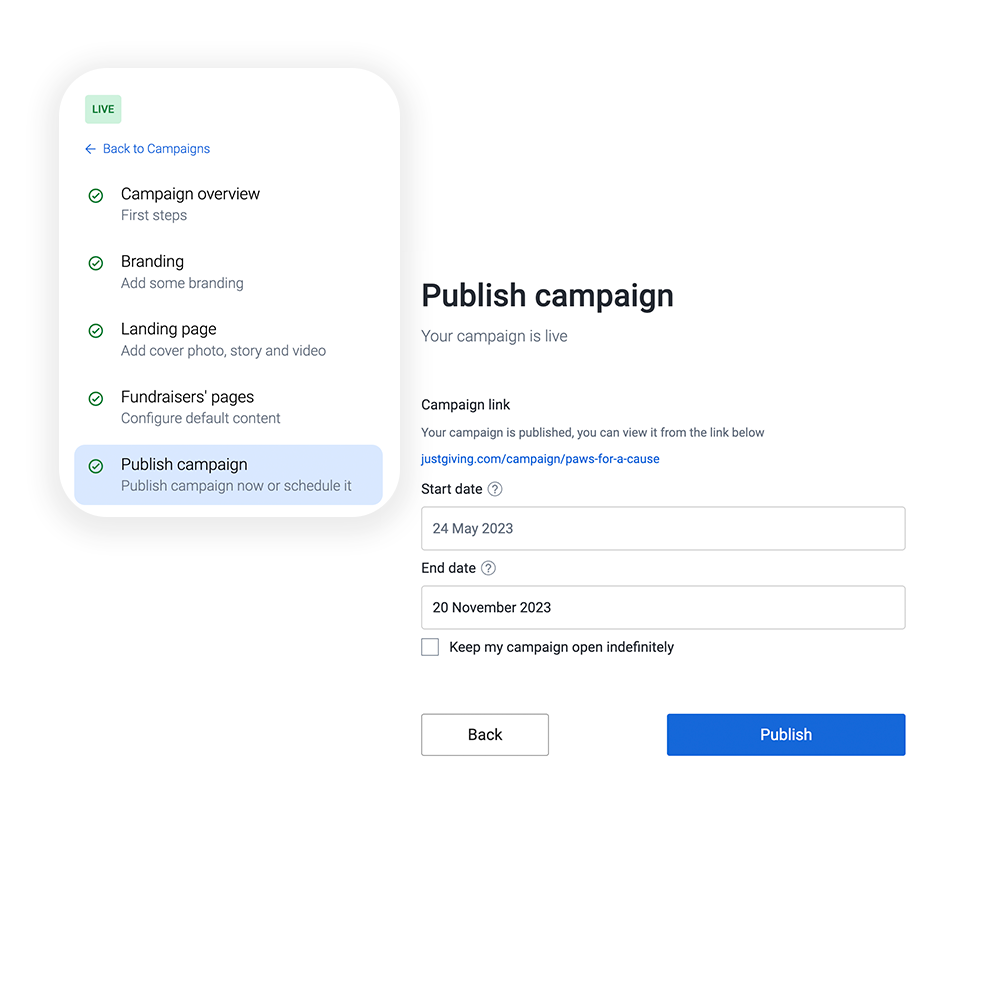 Once you hit Publish, your Campaign Page will be live, ready to receive donations, and searchable by the world!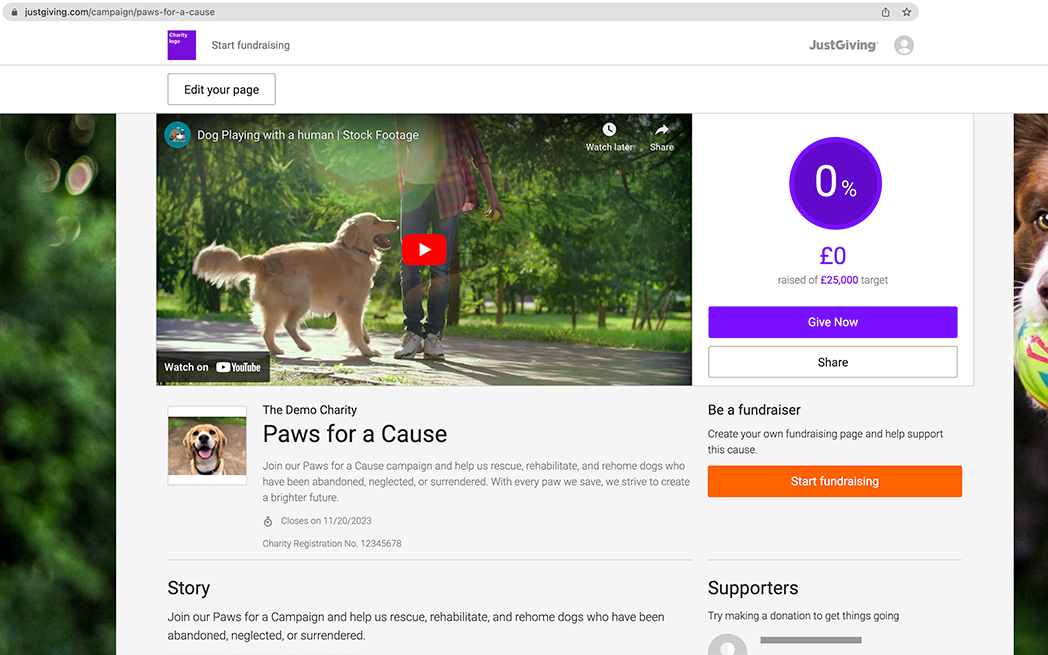 READY TO GO?
Create a Campaign Page
Bring all your supporters together with one central hub for fundraising and donations.