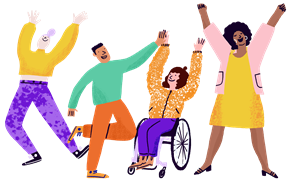 Our commitment to accessibility
We believe giving should be for everyone. That's why we're committed to improving the accessibility of our website for all users. We also make sure our features work accessibly for most technologies, whether you're using a tablet, mobile phone, laptop or desktop computer.

Key standards and guidelines
We care about accessibility. Because of this, we put accessibility standards at the heart of how we research, design and deliver all of our new online products and services. Here are some of the accessibility standards we aim to follow:

Supported browsers
You should have a good experience on our website no matter which browser you're using. Our website will display and function with graded browser support across these supported browsers:
Firefox

Chrome

Safari

Edge

Current exceptions
Some legacy (older) areas of our product were designed and built with an aim to achieve level A compliance of World Wide Web Consortium (W3C)'s Web Content Accessibility Guidelines (WCAG 2.0). We intend to bring all parts of our site in line, aiming for level AA of WCAG 2.1.

Third-party content
While we try to make sure all our web-based products are accessible to a wide range of users, we don't control all of the content on our website. Unfortunately that means we can't guarantee the accessibility of content managed by fundraisers, charities and companies using our products.

Tools for accessing content
Navigation shortcuts
There is a short menu at the start of every page that allows screen reader users to jump directly to the most important parts of the page, including main content and navigation. We hope this makes it easier for you to get where you need to with minimal searching.
Changing font size
Most browsers allow you to resize text on screen to a size you feel comfortable with. This tool is available in the menu of these browsers as follows:
Edge: from the '…' menu, select Zoom + or – as required

Firefox users: select View > Zoom, then select Zoom in or Zoom out.

Chrome users: click on the Settings icon > select Zoom in or Zoom out.

Safari users (Mac): select View > Zoom, then select Zoom in or Zoom out.
Contrast
We are careful to ensure we use enough contrast on the JustGiving website. Where colours are chosen by third-party users, we try to ensure that there is still adequate contrast – for instance by changing overlaid text from white to black (or vice versa). However, if you notice any colour combinations that cause you problems, please contact us.
Links
We work hard to make sure all our link names are distinct and not repeated on pages.

Feedback
Your feedback helps us improve the site, so if you have any difficulties accessing content on our website, or if you have suggestions about how to improve its accessibility or usability, please contact us.