Press release
JustGiving sets up fundraising page in response to Matt Hancock's 'I'm a Celebrity' appearance
7 November 2022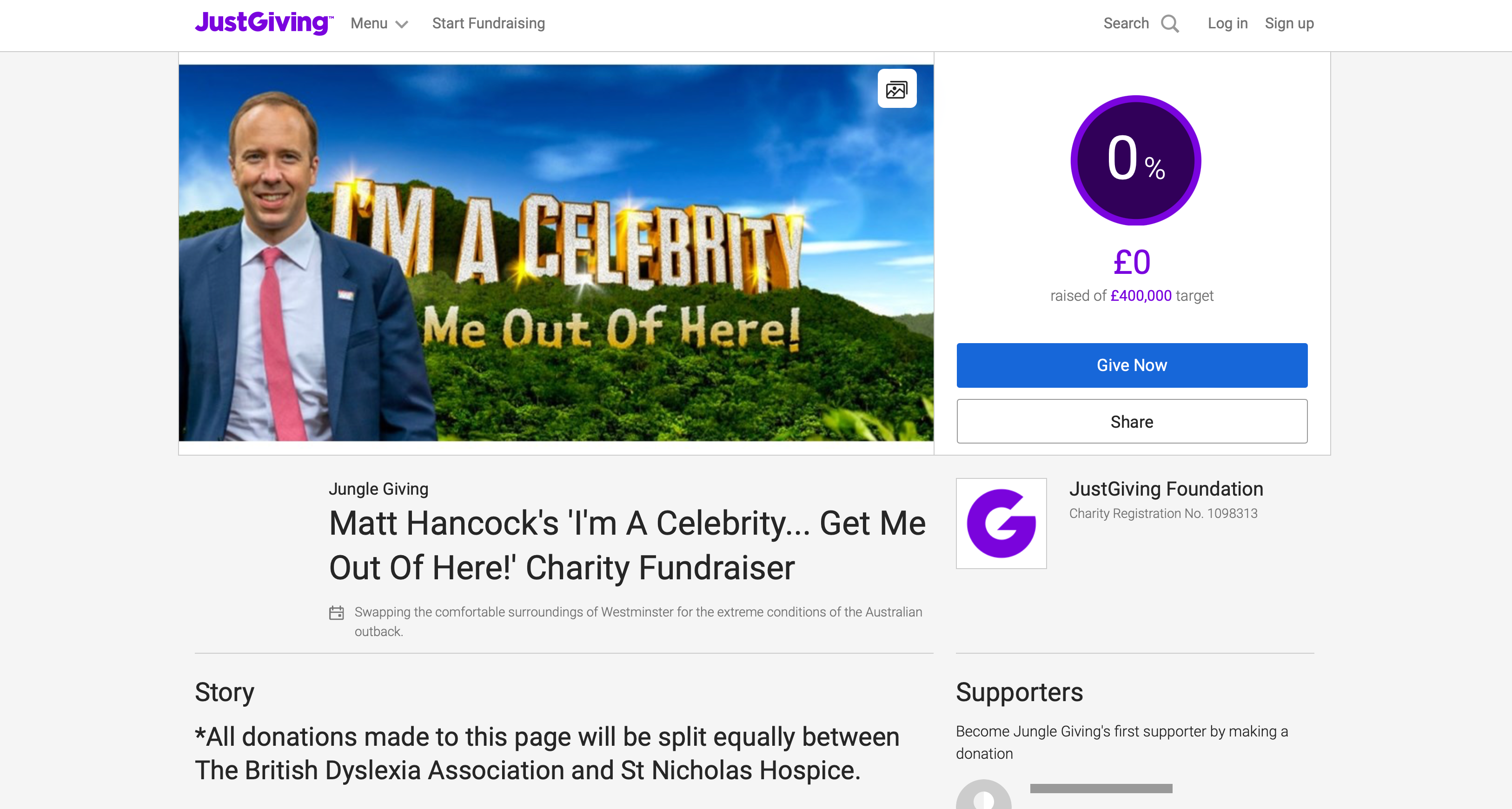 Leading fundraising platform, JustGiving has set up an online fundraising page, to enable the charities which Matt Hancock plans to donate to and raise awareness of, benefit during his time in the Australian jungle.
The conservative MP is set to head into the I'm a Celebrity… Get Me Out Of Here! Jungle and has shared that he plans to donate the proceeds from his appearance fee to St Nicholas Hospice and the British Dyslexia Association.
He explained that he intends to use this opportunity of appearing on the ITV reality TV show as a way to raise awareness of dyslexia – a learning difficulty that primarily affects the skills involved in accurate and fluent word reading and spelling.
In response to this, JustGiving has created an online fundraising page which captures the causes that he himself plans to donate to and raise awareness of.
Pascale Harvie, President and General Manager of JustGiving commented:
"JustGiving has and always will be a place where people can fundraise and give, to make a difference to the world around them."
"Over 22 million people fundraise on our platform every year and we know that when those in the public eye in particular raise awareness of good causes, it encourages generosity. We've therefore set up an online fundraising page so that those people who do watch the program and choose to support these causes can do so easily and securely." 
Ends
Notes to Editors
For more information please contact: press@justgiving.com
JustGiving does not charge a fee on donations but instead operates a voluntary contribution model, meaning people doating can choose to leave a tip if they wish. The only non-optional fee is a 1.9% + 20p to cover card payment charges, which is set by external card providers.
About JustGiving
JustGiving is the world's most trusted platform for online giving. We help people raise money for the charities and people they care about the most. In 2000, JustGiving.com began with one simple goal – to enable charities to receive donations online from anywhere in the world. Fast forward 22 years and over £5 billion has been raised for good causes in almost every single country in the world.